FUT VERSUS FIFA 22: Everything You Need to Know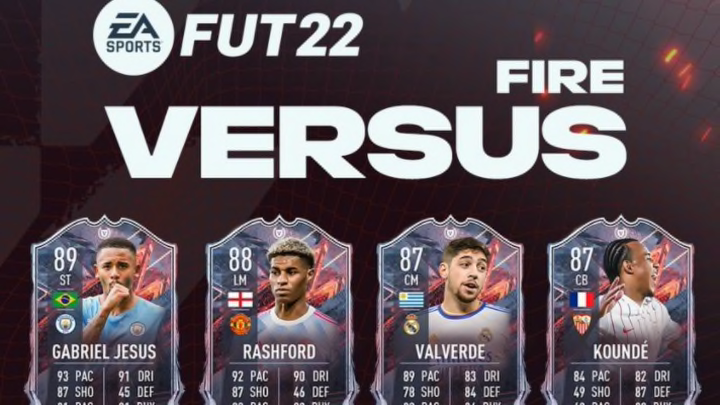 Here's everything you need to know about the FUT VERSUS promo in FIFA 22 Ultimate Team. / Photo Courtesy of EA SPORTS
FUT VERSUS is live now in FIFA 22. The 11 players in the FUT Versus squad will line up with two contrasting playing styles in FUT 22: Versus Fire and Versus Ice, which give each FUT Versus player two unique permanent upgrades and item designs.
Here's everything you need to know about the FUT VERSUS promo in FIFA 22 Ultimate Team.
FUT VERSUS FIFA 22: Who's in the Squad?
The following players have received special Fire and Ice items that will feature in FUT throughout the promotion
Gabriel Jesus: ST, Manchester City
Angel Correa: ST, Atletico Madrid
Joe Gomez: CB, Liverpool
Adama Traoré, RW, Wolves
Federico Valverde: CM, Real Madrid
Marcus Rashford: LM, Manchester United
Jules Koundé: CB, Sevilla
Nico Schulz: LB, Dortmund
Alexis Claude-Maurice: CAM, OGC Nice
Everton Soares: LW, Benfica
Nicolás Tagliafico: LB, Ajax
Roberto Pereyra: CM, Udinese
Kevin Mbabu: RB, Wolfsburg
Cristian Pulisic: LW, Chelsea
You can acquire either the FIre or Ice version of Christian Pulisic in SBCs as a player pick, while the Tagliafico and Everton Fire and Ice sets are also available as player picks in the objectives tab.
The Ice cards will have changed attributes that the Fire cards won't, and vice versa. This includes boosts in pace, shooting and even skill moves and weak-foot ratings.
According to EA, Versus Fire items will be included in the pool of Ultimate Team pack items until Monday Dec. 13 at 1 p.m. ET, when they will be replaced with the corresponding Versus Ice version. The Ice versions of the cards will then be available until Friday, Dec. 17 at 1 p.m. ET.