G2 Esports Announce Valorant Roster for VCT 2022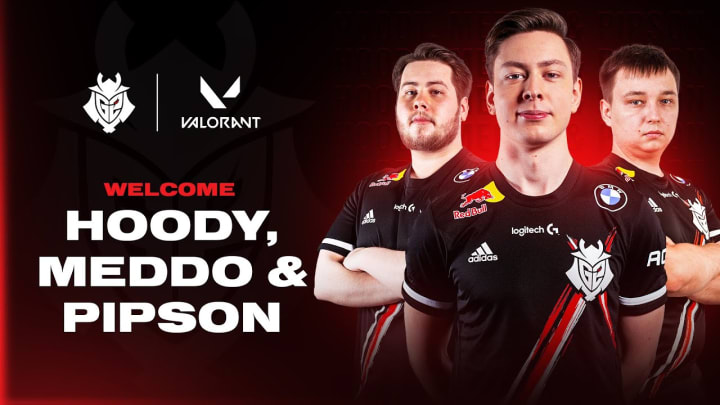 Aaro "hoody" Peltokangas, Johan "Meddo" Renbjörk Lundborg, and Daniil "pipsoN" Meshcheryakov have joined G2 Esports' Valorant roster. / Image courtesy of G2 Esports
Aaro "hoody" Peltokangas, Johan "Meddo" Renbjörk Lundborg, and coach Daniil "pipsoN" Meshcheryakov will be competing for G2 Esports Valorant in VCT 2022, the European organization announced Thursday.
In a series of further moves, G2 announced that Wasim "Keloqz" Cista will be benched and that coach Neil "neilzinho" Finlay is departing from the organization. According to a report by Upcomer, neilzinho is set to sign on as the new coach for DarkZero in North America.
The announcement confirms the rumors that had been surrounding G2 Valorant since it dropped Jose Luis "koldamenta" Aranguren Herrero at the start of December, as the Tier 1 EMEA org has officially signed the three former members of Giants Gaming and dismissed Keloqz and neilzinho to make way for their arrivals.
This year, G2 Valorant struggled to make much noise in Stage 1 and 2, but were able to deliver towards the end of the tour, finishing Top 4 in the EMEA Stage 3 Challengers Playoffs to qualify for Masters Berlin, and placing just under Team Envy and Gambit Esports once there.
In the EMEA Last Chance Qualifier, however, G2 entered with the highest amount of regional Circuit Points compared to the rest of the field, but fell short to the eventual Valorant Champions seed winners in Team Liquid.
With the departures of neilzinho's coaching style, Keloqz's Jett/Skye and former IGL koldamenta's Sova, G2 will undoubtedly look a bit different next year.
Oscar "mixwell" Cañellas Colocho will seemingly take on the IGL duties under pipsoN's system and perhaps go back to locking in Jett in-game, while hoody's Sage/Skye and Meddo's Cypher/Killjoy appear poised to give the roster plenty of options depending on the meta.
The new G2 Valorant roster for VCT 2022 is:
Óscar "mixwell" Cañellas Colocho (IGL)
Žygimantas "nukkye" Chmieliauskas
Auni "AvovA" Chahade
Aaro "hoody" Peltokangas
Johan "Meddo" Renbjörk Lundborg
Daniil "pipsoN" Meshcheryakov (Coach)