Garrote Warzone Blueprint: Everything You Need to Know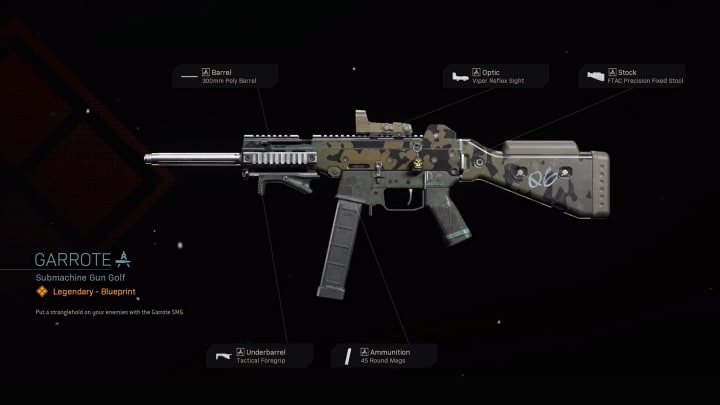 The Garrote Blueprint is a variant for a unique SMG in Call of Duty: Modern Warfare, the Striker 45. / Photo by Infinity Ward via GamesAtlas
The Garrote Warzone Blueprint in Call of Duty: Modern Warfare is a Legendary variant of the Striker 45 DLC Submachine Gun. An often overlooked option in Multiplayer and Warzone, the Striker 45 packs a punch, has considerable damage with its hollow point rounds ammunition attachment, and has a solid recoil pattern. 
In Warzone, the Garrote Blueprint and Striker 45 will not appear via random spawn on the ground or in weapon crates, and must be equipped via loadouts and acquired from supply drops in order to use in the game mode. It uses SMG/Pistol type ammo. With the right attachments, this weapon can compete extremely well in Warzone, although it is unforgiving and has quite the learning curve.
Garrote Warzone Blueprint: Attachments
Here are the default attachments for the Garrote Blueprint in Call of Duty: Modern Warfare:

Barrel: 300mm Poly Barrel
Optic: Viper Reflex Sight
Stock: FTAC Precision Fixed Stock
Underbarrel: Tactical Foregrip
Ammunition: 45 Round Mags
If looking to take the weapon into Warzone, here are the recommended attachments:

Muzzle: Muzzle Break
Barrel: 40mm Stainless Steel Barrel
Optic: VLK 3.0x Optic
Stock: FSS Guardian Stock
Ammunition: Hollow Point 12-R Mags (3-round burst)
Garrote Warzone Blueprint - Mace: Guns Blazing Bundle
The Garrote Blueprint is part of the Mace: Guns Blazing Bundle available on the Call of Duty store. This Bundle focuses on the operator, Mace, and can be purchased for 2400 COD Points.
In addition to the Garrote Blueprint, you will receive the following items in the Guns Blazing Bundle:
1.

Tombstone - Mace Skin
Photo courtesy of Infinity Ward
2.

Down and Quartered - Grau .556 Blueprint
Photo courtesy of Infinity Ward
3.

Garrote - Striker 45 Blueprint
Photo courtesy of Infinity Ward
4.

"F**k Off Now" - Mace Quip
Photo courtesy of Infinity Ward
5.

Run Through - Finishing Move
Photo courtesy of Infinity Ward
6.

A Time to Reap - Watch
Photo courtesy of Infinity Ward
7.

Coffin Nail - Combat Knife
Photo courtesy of Infinity Ward
8.

Hangman - Weapon Charm
Photo courtesy of Infinity Ward
9.

Bring Out Your Dead - Calling Card
Photo courtesy of Infinity Ward
10.

No Remorse - Emblem
Photo courtesy of Infinity Ward