Genesis Warzone Blueprint: How to Get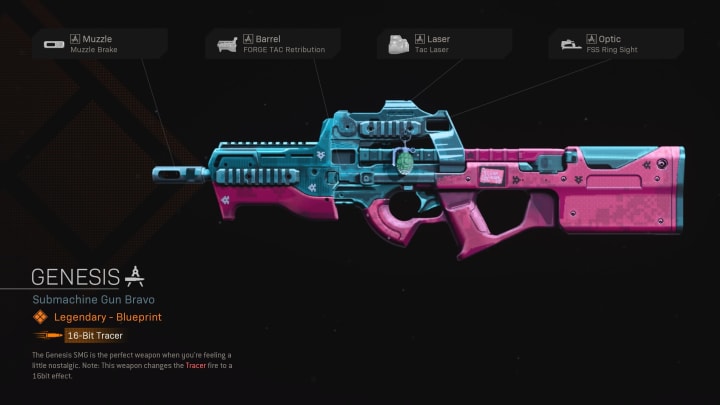 How to get the Genesis P90 Warzone Blueprint for Modern Warfare's multiplayer modes. / Photo by Infinity Ward
Genesis Warzone Blueprint is a Legendary P90 Blueprint with an 80's flair. Here's how to get your hands on the Genesis P90 in Warzone.
The pack costs 2,200 COD points and comes with cosmetics that'll make it feel like you've been sent back to the late 1980s. The weapons here are named after two iconic gaming machines, the Sega Genesis and Commodore 64. In addition to these weapon blueprints, you'll get the Vorpal Blade knife, Boom Bits charm, Slip On Out sticker, Clean Kills calling card and the No Soap emblem.
Genesis Warzone Blueprint: How to Get
Normally, you could just make the blueprint yourself without the fancy skin. You'll want the blueprint, as it quite literally has a some flair: it gives your tracer shots a fancy 16-bit effect. If you want to try out this Genesis P90 build, you can make your own with the following attachments:
Genesis P90
Muzzle Brake
FORGE TAC Retribution
Tac Laser
FSS Ring Sight
Fully Loaded perk
This P90 build is all about bullet speed. It's got some increased recoil and bounce control, and a little extra reach that you can use with the Ring Sight. Fully Loaded gives you full ammo right when grab the gun, giving you some versatility in the field.