Genshin Impact Amber AR Event: Full Rewards List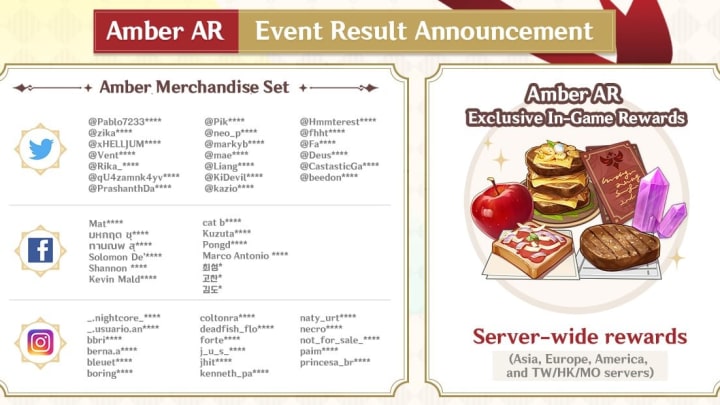 Genshin Impact Amber AR Event: Ending guide / Niantic Labs
Genshin Impact Amber AR event has now officially concluded.
Players of miHoYo's newest open-world fantasy RPG, Genshin Impact, were recently invited in September to participate in an augmented reality event starring popular character Amber. All they needed was a working smart phone with a camera and an Instagram or Facebook account. By participating, they had the chance to earn one of six puzzle pieces and solve the puzzle.
Genshin Impact Amber AR Event
Participants simply needed to find Genshin Impact on Instagram, tap the effects feature on the game's profile, and take photos using each of the six effects starring Amber. For every different effect uploaded, they were rewarded with a new piece of the puzzle. Those who solved the puzzle and posted it to social media were eligible for extra rewards.
Physical rewards were only given to 50 lucky winners. These items included a pillow, sticker, acrylic figurine, and badge. However, Amber wouldn't let other players go home empty handed. All who participated received the following in-game server-wide rewards:
Apple (x10)
Steak (x10)
Pile 'Em Up (x5)
Fisherman's Toast (x5)
Adventurer's Experience (x10)
Fine Enhancement Ore (x10)
Staff will be contacting winners momentarily. All in-game rewards should be received by Nov. 2 at 7 a.m. Players must be at least Adventure Rank 3 to access them. Any unclaimed rewards will disappear by Nov. 13.
More information about the event can be found on miHoYo's Genshin Impact news site.