Top Games
Genshin Impact Archon Quest: Everything You Need to Know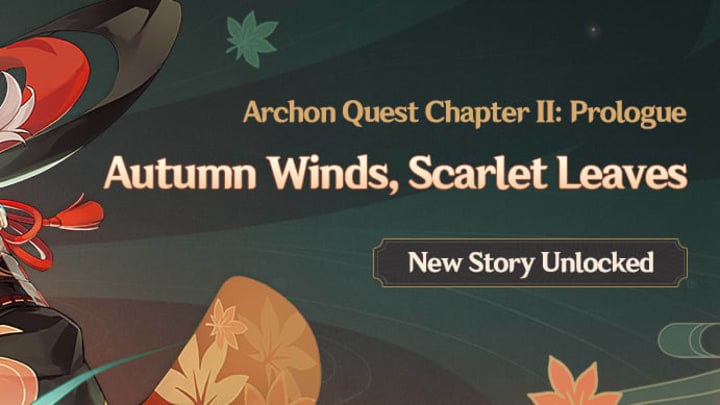 "Before embarking on the next part of your journey, you can share your thoughts and feelings with Paimon..." / Photo courtesy of miHoYo
The latest Genshin Impact Archon Quest is set to release this week, advancing the game's main story for the first time since April 2021.
Here's everything you need to know about Genshin Impact's latest Archon Quest, "Chapter II: Prologue Autumn Winds, Scarlet Leaves."
Genshin Impact Archon Quest: Everything You Need to Know
As announced on Twitter by miHoYo, the Archon Quest "Chapter II: Prologue Autumn Winds, Scarlet Leaves" will be permanently available starting Tuesday, June 29 at 04 a.m. server time. This corresponds to June 29, 5 a.m. ET for those in the North American server.
As standard procedures go for new main story quests in Genshin Impact, the Autumn Winds, Scarlet Leaves Archon Quest will only be unlocked for players AR 36 and above. Additionally, since the story will pick up right where miHoYo left off, players must have also completed the We Will be Reunited Archon Quest.
For those who mainly play Genshin Impact for its story elements, this next Archon Quest sure to be a long-awaited delight.
Autumn Winds, Scarlet Leaves will be a prologue quest to Chapter 2 of the Teyvat Story Chapter.
Still traveling the world of Teyvat in hopes of finding the Traveler's lost sibling, the new Archon Quest will pick up with the Traveler and Paimon looking for a way to head to Inazuma.
There, the Traveler will meet Beidou and her Crux Fleet for the first time—which includes the recently released anemo character Kaedehara Kazuha—and learn more about what's going on in Inazuma.
For more on Genshin Impact, feel free to check out our guide on how to earn the Frostbearer.