Top Games
Genshin Impact Codes From Patch 2.7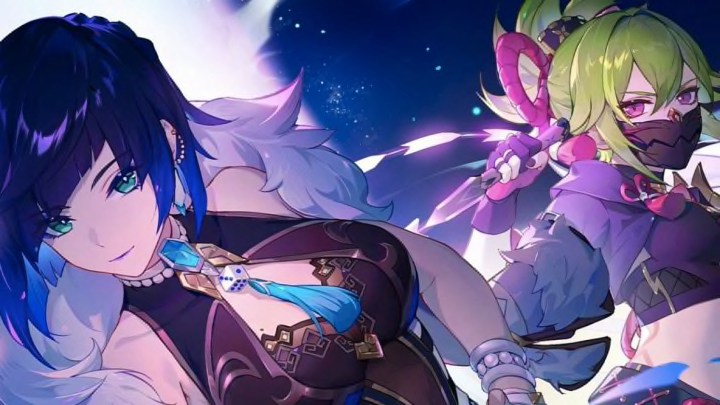 Genshin Impact 2.7 Official Artwork / Mihoyo
Genshin Impact's Codes from Patch 2.7 have been announced. During every patch announcement livestream and before each update, Mihoyo releases several codes players can redeem for Primogems and other rewards, and the 2.7 update is no exception.
Genshin Impact codes can be redeemed through the official Genshin Impact website. All you need to do is log into your account, then go to the code redemption page, which can be found under the 'More' tab. The page should automatically fill with your account information. From there, you just need to input the code into the 'Redemption Code' box and hit submit.
Every Genshin Impact Promo Code for Patch 2.7
During the Genshin Impact 2.7 Special Program livestream, Mihoyo released three codes players can redeem.
LANVJSFUD6CM - Rewards 100 Primogems and 10 Mystic Enhancement Ores.
DTNUKTWCC6D9 - Rewards 100 Primogems and 5 Adventurer's EXP.
HSNUKTXCCPWV - Rewards 100 Primogems and 50000 Mora.
Besides the livestream codes, there are a few other active promo codes players can redeem.
MS7C3SV8DMZH - Rewards 60 Primogems and 5 Adventurer's EXP.
GENSHINGIFT - Rewards 50 Primogems and 3 Hero's Wit.
Genshin Impact codes are revealed frequently, but also expire frequently. Thus, players should make sure they're redeeming codes as soon as they're found because they could become invalid soon. Codes are often released on the Hoyolab forums, so players should stay check there if they want to stay up to date on new codes. It's important to remember that players can only redeem one code per account, and they must be at least Adventure Rank 10 to successfully redeem codes.