Top Games
Genshin Impact GeForce Bundle: How to Claim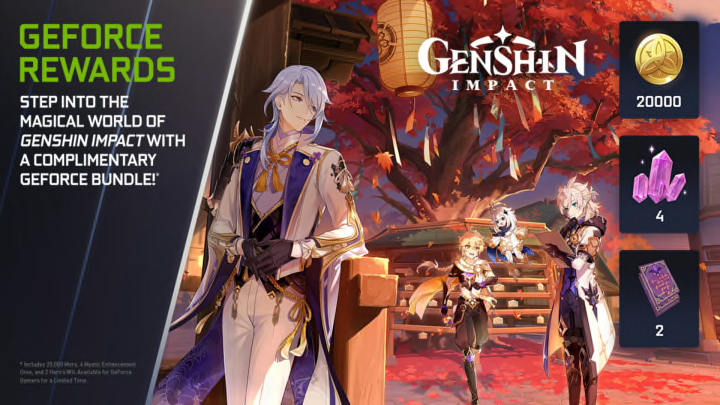 "Starting today, you can get this complimentary Genshin Impact GeForce Bundle via GeForce Experience." / Image courtesy of Nvidia, HoYoverse
In celebration of the release of Genshin Impact's newest update, Zephyr of the Violet Garden, Nvidia and HoYoverse announced that they will be giving GeForce gamers an in-game complimentary bundle, containing key items that'll help them in their adventures.
Here's a breakdown of how to claim the Genshin Impact GeForce Bundle.
"To assist you in your upcoming adventures," Nvidia said in its April 26 dev blog, "20,000 Mora will help you buy new items, the four Mystic Enhancement Ores will help you enhance your weapons and two Hero's Wit will provide EXP for leveling up your characters."
Between April 26 and June 1 at 3 p.m. ET, while supplies last, all players who use a GeForce GTX 10 Series, GeForce GTX 16 Series or GeForce RTX desktop, GPU or laptop can use an Nvidia account to claim the bundle:
If you don't have one already, create an Nvidia account
Log in to your Nvidia account and head to your account page to check/opt in to GeForce rewards
Download and install GeForce Experience if you haven't already got it, and log in
Click your account name in the top right and select "Redeem" from the drop-down menu
Select "Genshin Impact GeForce Bundle"
Select "Redeem"
Once again, the offer is only going while supplies last, so players interested in claiming it should do so as soon as they get the chance. The offer is also not available in China, Russia, Romania and Brazil.
Additionally, if you are new to Genshin Impact, it is said that you'll receive your complimentary Genshin Impact GeForce Bundle via in-game mail once you've achieved Adventure Level 10.
For more on Genshin Impact, check out our coverage of the Promo Codes for May 2022.