Genshin Impact Interactive Map: What is it?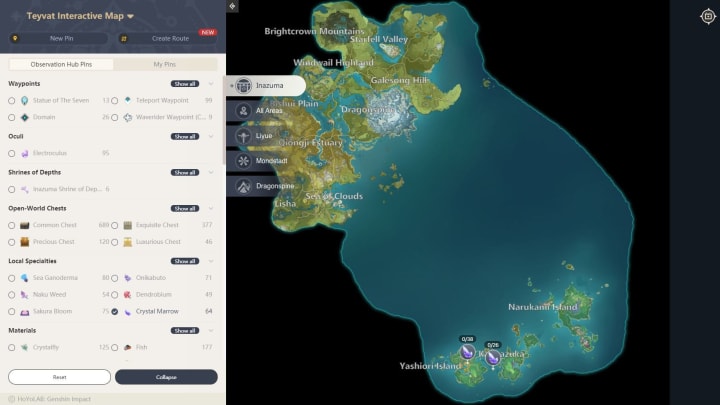 The official Genshin Impact Teyvat Interactive Map was released by miHoYo on April 17, 2021. / Photo courtesy of miHoYo
The Genshin Impact interactive map is a great tool for travelers to keep nearby when playing the action RPG from miHoYo.
Originally released by miHoYo on April 17, 2021, the Teyvat Interactive Map can be used as a travel companion to make sure you don't miss any resources. For those looking for help on where to farm certain materials, here's a breakdown of the official Genshin Impact interactive map.
Genshin Impact Interactive Map: What is it?
First things first, the Teyvat Interactive Map features an entire list of the resources, waypoints, chests, quests and more available across Teyvat.
Given that the selection menu presents so many options, travelers should take the time to go through all the interactive items and locations available in the interactive map that they wish to find in Genshin Impact.
The map also has support for up to 13 different languages.
For those new to the 2.0 update in Genshin Impact, the map covers all of the POIs in the game, from Mondstadt to Liyue, Dragonspine and Inazuma.
Travelers can even log in with their account to receive real-time personalized map reports that update for any completed actions or tasks a traveler has done, including which resources they have yet to collect and even which temples they haven't attuned yet.
For more on Genshin Impact, feel free to check out some of our local specialty guides on where to find Crystal Marrow, Naku Weed, Cor Lapis, Valberries or Sakura Blooms.