Genshin Impact Lantern Rite 2022 Detailed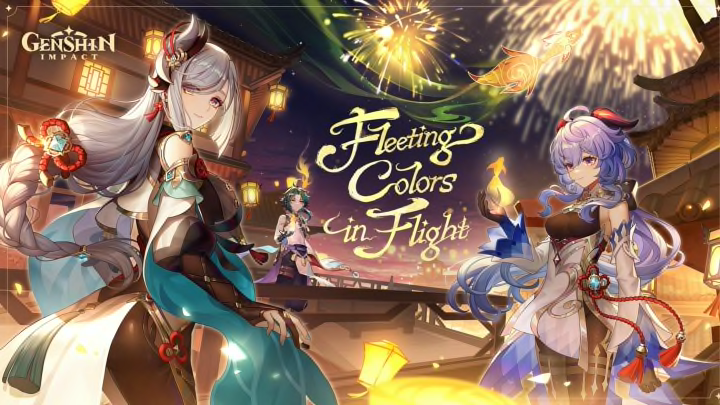 Photo courtesy of miHoYo
Genshin Impact's Lanter Rite event of 2022 starts on Jan. 25 and ends on Feb. 12. The event's name this year is "Fleeting Colors in Flight" and is a chance for Genshin players to pick up new exclusive items, weapons, costumes, and even a four-star character. The Fleeting Colors in Flight even is open to all players who are Adventure Rank 28 or above.
The event features four different themes: Flameplume Starflowers, The Great Gathering, Wondrous Shadows, and Oceanic Defender. All of these themes have different quests that can be accomplished. Upon finishing these quests, players can obtain exclusive rewards.
Here is a detailed list of the events and their prizes:
Flameplume Starflowers: Primogems, Affluence Talisman, Hero's Wit, Fireworks, Mystic Enhancement Ore and Mora
The Great Gathering: Primogems, Immaculate Talisman, Recipe: Bountiful Year, Hero's Wit, Mystic Enhancement Ore and Mora
Wondrous Shadows: Primogems, Affluence Talisman, Hero's Wit, Mystic Enhancement Ore and Mora
Oceanic Defenders: Primogems, Conquest Talisman, Hero's Wit and Mora

Genshin Impact Lantern Rite 2022 Detailed
Along with these quests and rewards are larger rewards that can be exchanged for collecting a talismans. Talismans are the main currency of this event and can purchase several different items in the event shop. This includes items such as Fireworks, Crown of Insight and more. The Talisman can also be exchanged for exclusive Lantern Rite furnishing items.
Furthermore, by collecting a certain number of Talisman, players can obtain Ningguang's "Orchid's Evening Gown" outfit. If players are able to collect 1,000 Affluence and 1,000 Conquest Talismans, they can exchange this for a four-star Liyue character of their choice.
The event will end on Feb.12 while the event shop will end on Feb. 14.