Genshin Impact Test of Courage Quest Guide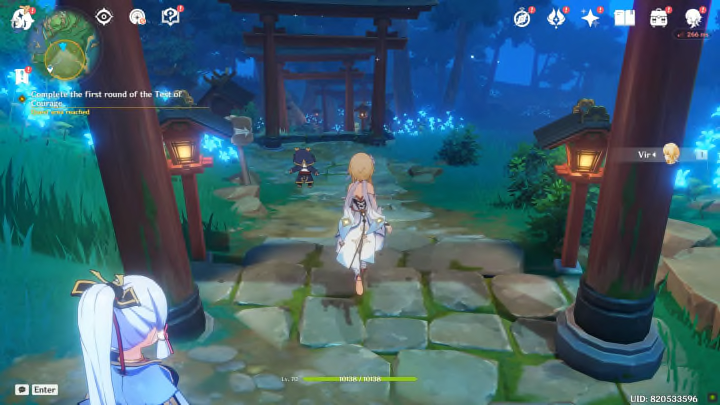 miHoYo
The featured event of Genshin Impact's upcoming update, Akitsu Kimodameshi, is here. Throughout it will be several opportunities to earn Primogems and more--but first, players looking to participate will have to go through the new Test of Courage.
Similar to previous events, there are some prerequisites to participating in Akitsu Kimodameshi. To begin, you'll need to have completed Chapter 2 Act I and Ritou's Escape Plan as well as be Adventure Rank 30 or higher.
To start the Test of Courage portion of Akitsu Kimodameshi, you'll also need to complete the first act of Inazuma's Archon Quest.
Genshin Impact Test of Courage Guide
To activate the Test of Courage, head over to the Kamisato Estate in the Yashiro Commission and talk to Ayato about the Test of Courage. From there, the steps to complete the Test of Courage are as follows:
1.

Travel to Chinju Forest.

The entirety of the quest will take place here, and the site of the Test of Courage will be marked on the map.
2.

Speak to the Shrine Maiden and pick a partner.

You'll be able to partner up with either Ayaka, Gorou, or Kazuha. This choice will not have any effect on the outcome of the test, but dialogue throughout will differ depending on who you pick.
3.

Find some Dango Milk.

Your first objective will be to find Dango Milk, which can be found by following the wooden signs along the path. Once you reach a fork in the road with three different signs, take the left path. You'll then reach an area with a small shrine, in which the Dango Milk can be found.
4.

Return to the main site and talk to Itto.

Itto will enlist in your help to scare your friends. After helping him, you'll need to follow everyone who runs away.
5.

Talk to Heizou about Akitsu Yuugei.

Once your interaction with Itto is complete, Heizou will appear to tell you about the next game of Akitsu Kimodameshi, Akitsu Yuugei. After this, the Test of Courage will be marked as done, and you'll receive 30 Primogems, 20,000 Mora, 2 Hero's Wit, and 4 Mystic Enhancement Ore.



Akitsu Kimodameshi will unfold over the next month, so events beyond the Test of Courage aren't yet available. The festivities will end on Jan. 2, so there is plenty of time to meet the requirements and participate in the events currently available.