Top Games
Genshin Impact Windtrace Event: Everything You Need to Know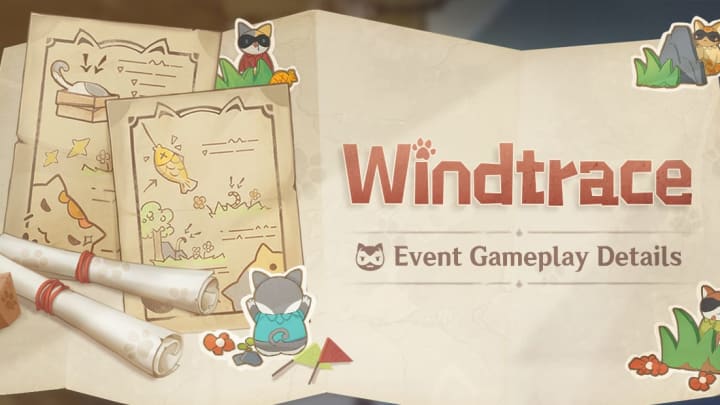 Photo courtesy of miHoYo
The Windtrace Event in Genshin Impact has recently begun, offering Travelers a chance to obtain primogems and other rewards through a casual game of hide-and-seek. The event lasts from May 14 to May 24. Read on to learn how to participate in this event.
Genshin Impact Windtrace Event: Everything You Need to Know
Starting the Event
You'll need to be at least Adventure Rank 20 to take part in the event. First, go to Mondstadt, and speak to Gygax. He'll invite you to take part in the Windtrace game.
Speak to the NPC Gygax
Windtrace is a classic game inspired by Mondstadt's history and features a battle between two sides: the Rebels and the Hunter. The Rebels' goal is to run and hide from the Hunter, while Hunter's goal is to capture all the Rebels before the time is up. The game works similarly to hide-and-seek, but with some unique twists.
You can play the Windtrace game in a custom Co-Op party or randomly match with other players. When the game begins, one player will be randomly assigned to be the Hunter, while the other players will be Rebels.
The game will begin in one of five Contested Zones, randomly chosen. To participate in a Contested Zone, you must first have unlocked the Statue of the Seven for that corresponding area.
Contested Zones
Windward Arts
Both Hunters and Rebels have access to "Windward Arts" during the game, which are unique abilities to help you secure victory.
If you are playing as a Rebel, you can disguise yourself as objects in the environment, briefly become invisible, or lay "bait" for the Hunter that will obscure their vision. If you are playing as the Hunter, you can scout the area around you, or briefly reveal the direction the Rebels are in.
Additionally, throughout the game, "Favors" will spawn at random. They look like green orbs of light, and can be picked up by both Hunters and Rebels. When you pick up a Favor, you'll obtain a particularly powerful Windward Art.
Picking up a Favor / Photo courtesy of miHoYo
If you are playing as a Rebel, picking up a favor allows you to greatly increase your movement speed for the next 30 seconds. If you are playing as the Hunter, you'll gain one of three abilities: dispel a Rebel's disguise and briefly restrain them, dispel all Rebels' disguises and briefly mark their locations, or greatly increase your movement speed.
You will be able to select which Windward Arts you wish to use by clicking on the "Windward Art" icon before starting the game.
Rewards
Windtrace Coins are the rewards obtained from the event. The more Windtrace Coins you gather, the more rewards you'll receive. A total of 4,800 Windtrace Coins are required to obtain all rewards, which include:
420 Primogems
21 Hero's Wits
3 Talent Level-Up Materials of each type
6 Mystic Enhancement Ores
280,000 Mora
Celebration: Peekaboo! namecard
Windtrace Coins can only be obtained through the random matchmaking function, not through custom Co-Op games. In addition, there is a maximum limit to the number of Windtrace Coins you can carry at a time. The limit begins at 1,200 on the first day, and increases by 600 each day, up to a maximum of 4,800 Windtrace Coins.
There are also a total of five missions throughout the event that reward 50,000 Mora each. They require the Traveler to complete certain actions, such as obtaining a Favor or winning as a Rebel without using Disguise.