FIFA
Gerard Deulofeu FIFA 22: How to Complete the TOTS Moments SBC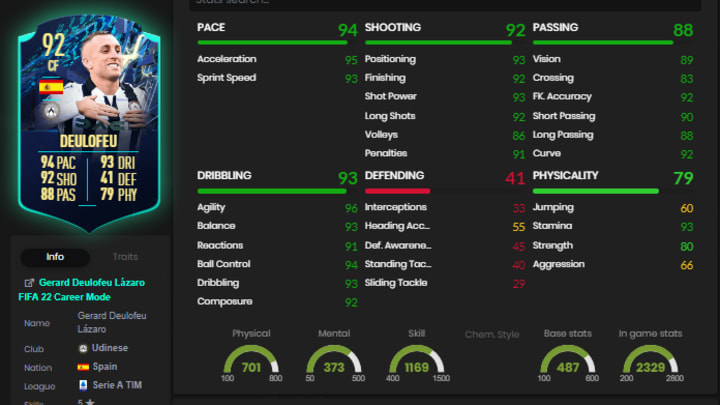 Photo by FUTBIN
Gerard Deulofeu FIFA 22 TOTS Moments SBC went live June 6 during the Serie A Team of the Season celebrating the Udinese forward's performance against Cagliari.
EA Sports releases special Moments cards during Team of the Season for players who had standout moments. EA Sports traditionally releases one to two of these cards during each week of Team of the Season. Deulofeu's special Moments card celebrates his brace that he scored against Cagliari.
Gerard Deulofeu FIFA 22: How to Complete the TOTS Moments SBC
Here's how to complete the TOTS Moments Deulofeu SBC in FIFA 22:
Segment 1
# of Players from Spain: Min. 1
TOTW or TOTS Players: Min. 1
Squad Rating: 83
Team Chemistry: 70
# of Players in the Squad: 11
REWARD: Small Prime Gold Players Pack
Segment 2
# of Players from Serie A: Min. 1
Squad Rating: 86
Team Chemistry: 60
# of Players in the Squad: 11
REWARD: Rare Mixed Players Pack
Deulofeu is coming around 117,850 coins to complete from scratch. The card has five-star skills and a four-star weak foot and the second special item Deulofeu has received this game cycle. the card has strong stats is prominent categories, but the problem is there are so many other cards like Deulofeu available right now.
TOTS Moments Deulofeu expires June 13.