FIFA
Gerard Pique FIFA 22: How to Complete the Showdown SBC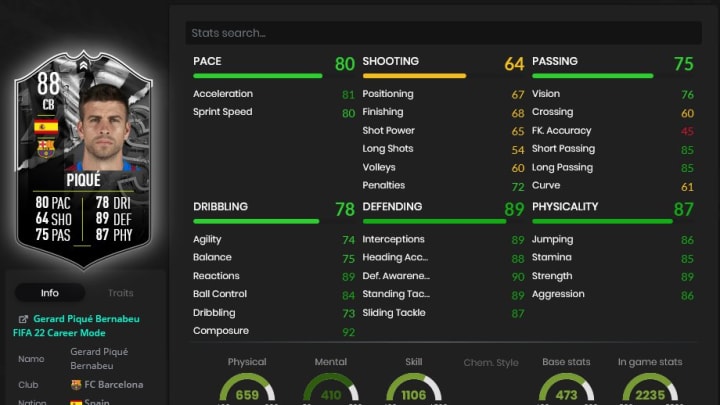 Photo by FUTBIN
Gerard Pique FIFA 22 Showdown SBC was released Dec. 4 as one of two Showdown items added to this Ultimate Team cycle for the first time.
Showdown items are some of the most exciting prospects in FIFA Ultimate Team. EA Sports highlights a specific matchup in any given competition and awards special items to a player from both teams. Each item receives an initial boost with the opportunity to get boosted again depending on the result. The player from the winning team gets an additional plus-two to their overall rating while the player from the losing team doesn't get boosted again.
If the game ends in a draw, each player receives a plus-one. The first Showdown SBC highlights an upcoming Champions League match between Bayern Munich and FC Barcelona.
Gerard Pique FIFA 22: How to Complete the Showdown SBC
Here's how to complete the Showdown Pique SBC in FIFA 22:
Segment 1
# of Players from FC Barcelona: Min. 1
Team of the Week Players: Min. 1
Squad Rating: 84
Team Chemistry: 70
# of Players in the Squad: 11
REWARD: Small Prime Gold Players Pack
Segment 2
# of Players from LaLiga Santander: Min. 1
Squad Rating: 86
Team Chemistry: 65
# of Players in the Squad: 11
REWARD: Rare Electrum Players Pack
Ultimate Scream Pique anyone? One of the most popular SBCs of FIFA 20 is back it seems with this new Showdown item. Pique has been a whopping 22 points in pace to make him viable in the top echelon of competition. With the opportunity to get boosted a potential two overall points again, this card might turn into the most used defender in the game.
The only issue is Barcelona has been up and down all season long. Xavi has taken over as manager and the team is still struggling domestically. Not to mention, Barcelona is playing against one of the top teams in the world. It's still possible, but unlikely. Regardless, this is still a top item without the potential boosts factored in.