Call of Duty
Ghost Marsh Warzone Blueprint: How to Get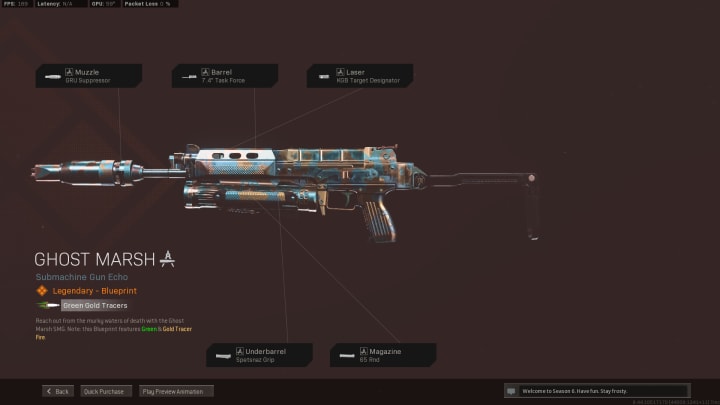 Call of Duty: Warzone players are wondering how they can get their hands on the Ghost Marsh Bullfrog blueprint. / Photo courtesy of Ralston Dacanay, Activision
Call of Duty: Warzone players are wondering how they can get their hands on the Ghost Marsh Bullfrog blueprint.
Raven Software released the Ghost of War Ultra Skin bundle as one of the newest premium collections added to the in-game store with the launch of The Haunting event in Season 6. This bundle contains a unique assortment of Epic, Legendary, and Ultra rarity items, including three weapon skins. One of these, the Ghost Marsh, has gained particular attention. Here's how to get it.
Ghost Marsh Warzone Blueprint: How to Get
Currently, the only way to get the Ghost Marsh Bullfrog blueprint in Warzone is by purchasing the Ghost of War Ultra Skin bundle off the COD store. There are nine items within the pack, priced at 2,400 COD Points in total.
Ghost Marsh is made up of the following attachments:
Muzzle: GRU Suppressor
Barrel: 7.4" Task Force
Underbarrel: Spetsnaz Grip
Laser: KGB Target Designator
Magazine: 65 Rnd
This blueprint is pretty much already set up with how most meta Bullfrog builds are, making it an especially great option for those who have yet to fully max out the Black Ops Cold War SMG.
The Ghost Marsh, itself, is of Legendary quality and features Green and Gold Tracer Fire. This has made it a common choice in Warzone — contributing to its popularity overall.
Other items included in the Ghost of War Ultra Skin bundle are the Ghost Sword Krig 6 and Ghost Bellow Streetsweeper blueprints, War Monger Epic Emblem
and Underworld Mini-map Watch.