Girnar Blueprint Warzone: Heiji Mishkin Bundle and Best Build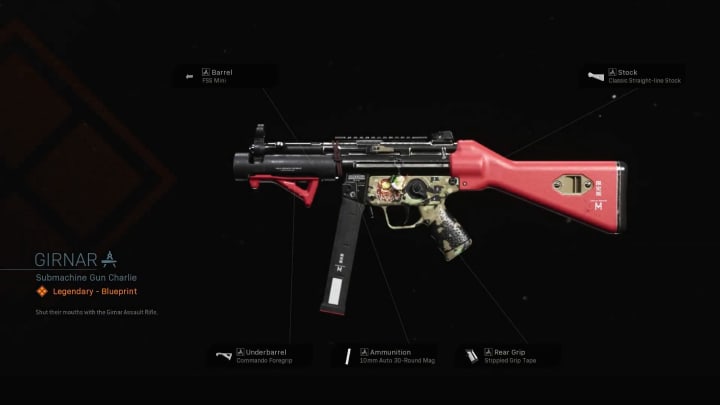 The Girnar Blueprint in Call of Duty: Modern Warfare is a much better option to run in Warzone than its Bundle counterpart, the Gir Kilo 141. / Photo by Infinity Ward via GamesAtlas
The Girnar Blueprint in Warzone is a Legendary MP5 loadout, and the second of two legendary Blueprints included in the Heiji Mishkin: Limited Bundle.
Like the Gir Blueprint for the Kilo 141, the Blueprint features attachments that may be better suited for Multiplayer, and is slightly off meta. We'll go into detail regarding how to swap out attachments while still keeping the original feel of the Blueprint visual style. 
The Heiji Mishin: Limited Bundle is available on the Call of Duty: Modern Warfare store for a price of 1400 COD Points. The steep price tag is also attached to the limited-run nature of the Bundle, so be sure to grab it as soon as possible before it's gone for good. Here's what's included in the Bundle in case you see something else you just can't live without:
1.

Girnar Blueprint
One of the best weapons in the game, save for a few attachments that you may want to swap out. / Photo courtesy of Infinity Ward
2.

Gir Blueprint
The Kilo 141 has its specialty uses, and if you love the weapon you'll want to take a look at this build that requires minimal adjustments. / Photo courtesy of Infinity Ward
3.

Guardian Spirit Emblem
Photo courtesy of Infinity Ward
4.

King Komainu Sticker
Photo courtesy of Infinity Ward
5.

Ramen-TIC Weapon Charm
Photo courtesy of Infinity Ward
Girnar Legendary Blueprint: Attachments
The Girnar Blueprint comes auto loaded with attachments that in all honesty you will want to un-equip immediately. These attachments just do not play to the strengths of the MP5, although there was some debate regarding the 10mm ammunition for a time. Outside of the Underbarrel and Rear Grip attachments, we'll be changing the rest of the loadout for Warzone - as the MP5 has evolved into a top-tier meta weapon for clearing out tight spaces and close-quarters engagements in Verdansk.
Girnar Blueprint Default Attachments
Barrel - FSS Mini
Stock - Classic Straight-line Stock
Underbarrel - Commando Foregrip
Ammunition - 10mm Auto 30-Round Mags
Rear Grip - Stippled Grip Tape
Here is what we will be changing and why:
MP5 Warzone Build:
Barrel - Monolithic Integral Suppressor
Stock - FTAC Collapsable
Underbarrel - Ranger Foregrip
Ammunition - 45 Round Mags
Rear Grip - Stippled Grip Tape
This build is well suited for Warzone and we'll break down why. 
Your barrel is the Monolithic Integral Suppressor which is actually a 2-for-1 deal. Not only will you stay off the radar (never appearing on radar is invaluable in Warzone) you will have increased bullet velocity and a 12.5% boost in range, making it easier to hit moving targets as well as deal more damage per shot. 

The Stock is questionable, because both the FTAC as well as FSS Stock have some great benefits here. The FTAC has the shorter increase to ADS speed, but you also gain a movement speed boost. This one is up to personal preference.

The Ranger Foregrip makes a great choice here for the MP5. Usually, the two best attachments in this class are either the Ranger or Commando grips, but the Ranger will give a larger benefit in vertical recoil, making it a great option since the base horizontal recoil pattern is already controllable to a great degree.

The 45 round mags will maximize your ability to engage with multiple enemies on a squad, especially in the event you get third partied by a scavenger team. 

Stippled Grip Tape is going to drastically affect our sprint out time - in a positive way. This gets us on target fast from a sprint, essential for being mobile as well as snappy on target.
Take this build into Warzone, complete with your beautiful new Girnar Blueprint weapon skin to dominate and stay as far away from those Gulag showers as you can.