Glacial Polish Warzone Blueprint: How to Unlock the Uzi Blueprint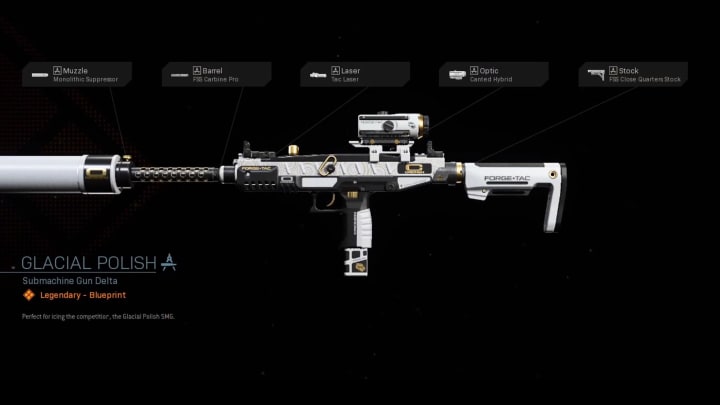 Glacial Polish Warzone Blueprint is a legendary blueprint available for the Uzi that can be unlocked at level 42 of the purchased Season 4 Battle Pass / Photo by Infinity Ward via GamesAtlas
Glacial Polish Warzone Blueprint is a legendary blueprint available for the Uzi that can be unlocked after leveling up the purchased Season 4 battle pass to tier 42. Glacial Polish, aka Levigatura glaciale, comes with five attachments along with a sleek white, gold, and black skin that have you killing in style.
Weapon blueprints allow players to use weapons and attachments they might not have unlocked yet. The Uzi is a pretty early unlock in the game, but the attachments this blueprint offers are hard to come by and would take a decent amount of Uzi gameplay.
Glacial Polish Warzone Blueprint: How to Unlock the Uzi Blueprint
As it's a legendary blueprint, Glacial Polish comes with five attachments and they are all normal attachments—no perks.
Muzzle: Monolithic Suppressor
Barrel: FSS Carbine Pro
Laser: Tac Laser
Optic: Canted Hybrid
Stock: FSS Close Quarters Stock
These attachments will give the Uzi a massive boost in range and accuracy allowing for the Uzi to be a lot more viable after the early game. A slight increase in control also comes with a slight decrease in mobility, but this blueprint should definitely make the Uzi a lot more viable of a weapon.