Grand Marshal Warzone Blueprint: Everything You Need to Know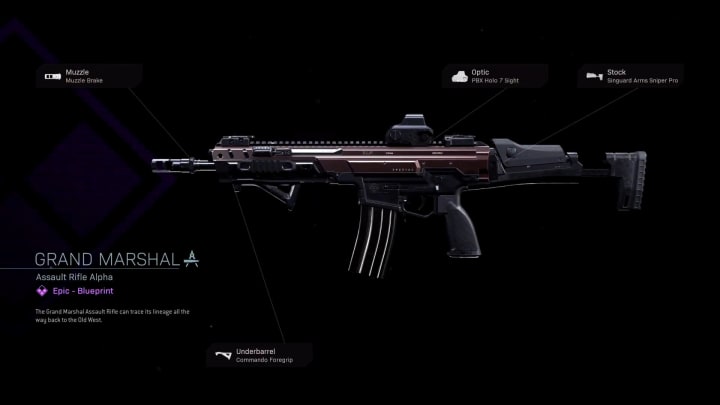 The Grand Marshal Blueprint for the Kilo 141 is a beautiful variant for the Kilo 141. Is it worth using over the comparable Grau .556 in Warzone? / Photo courtesy of Infinity Ward
Grand Marshal Warzone Blueprint is an epic variant of the Kilo 141 Assault Rifle in Call of Duty: Modern Warfare. Sporting beautiful colors and a sleek exterior body, this variant will turn collective heads, while you continuously shoot at them with the outrageous 100 round drum ammunition attachment that the Kilo has available.
The Kilo 141 does not appear in random spawns or loot boxes in Warzone like its cousin the Grau .556 - the closest comparable rifle. Therefore, although you will need to acquire it via supply drops and a pre-delegated loadout, it is not necessarily preferred by high-skilled players, nor is it particularly meta in any way. The Kilo does have its fans, and if you like the handling and feel of the weapon then be sure to check out this specialized Blueprint.
Grand Marshal Warzone Blueprint: Attachments
The Grand Marshal Blueprint - comes auto-loaded with 4 attachments, giving you a feebie to put on whatever else you may choose. 
Here is what you get with the default loadout class:

Muzzle : Muzzle Brake
Optic: PBX Holo 7 Sight
Stock: Singuard Arms Sniper Pro
Underbarrel: Commando Foregrip
If looking to take the weapon into Warzone, here are the recommended attachments:

Muzzle: Monolithic Suppressor
Barrel: Singuard 19.8" Prowler
Laser: Tac Laser
Optic: Solo Zero Mini Reflex Sight
Ammunition: 60 Round Mags
Grand Marshal Modern Warfare Blueprint - ZLR Special 2 Bundle
The Grand Marshal Blueprint for the Kilo 141 is part of the ZLR Special 2 Bundle, available on the Call of Duty store for a price of 800 COD Points.
In addition to the Grand Marshal Blueprint, you will receive the following items when purchasing the bundle:
1.

Grand Marshal - Kilo 141 Blueprint
Photo courtesy of Infinity Ward
2.

Preeminence - Combat Knife
Photo courtesy of Infinity Ward
3.

Venerable Brat - Calling Card
Photo courtesy of Infinity Ward
4.

Victory Angel - Emblem
Photo courtesy of Infinity Ward