Hades Bomb Rocket League: Everything You Need to Know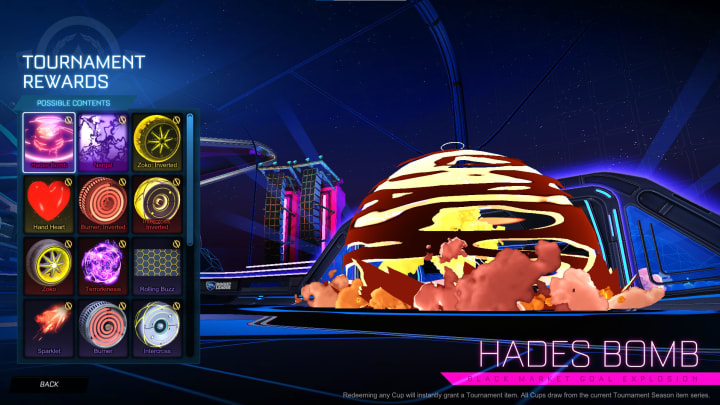 Hades Bomb Rocket League: Everything You Need to Know / Photo Courtesy of Psyonix
The Hades Bomb in Rocket League is the newest addition to Rocket League's rare goal explosions. Not only is the Hades Bomb a rare goal explosion, its Black Market rarity makes it one of the most precious in the game. Like most items in Rocket League, the Hades Bomb can also come in different colors and with various certifications. But how does one acquire such a unique goal explosion?
There are two ways to get a Hades Bomb goal explosion, neither of which are guaranteed. The first is by spending in game tokens. Specifically, players will have to spend Tournament Tokens. By participating in the daily tournaments, players can earn Tournament Tokens. Those tokens can be spent on Reward Cups. The more tokens players decide to spend on a cup, the more likely players are to get a high rarity item. In order to unlock the Hades Bomb, players will have to spend at least 12,000 tokens on the All-Star Cup or a maximum of 20,000 tokens on the Champions Cup, and hope for a lucky drop.
Hades Bomb Rocket League: Everything You Need to Know
The second way to get the Hades Bomb is to trade up items. Items unlocked through Reward Cups work the same way as regular items. Items of the same rarity from the same tournament can be traded up for a random item of higher rarity. Since trading in five items is required to trade up, and trade ups only give items one rarity rank higher, players would have to trade in five Exotic items to have a chance at getting the Hades Bomb.
If players want the Hades Bomb, they better hurry. Tournament items are limited time items. This means they disappear from the shop once the season is over. On top of that, tournament items cannot be traded with other players. In other words, the only way to get the Hades Bomb is to do well in tournaments so that players have the tokens to spend.