FIFA
Hakim Ziyech FIFA 22: How to Complete the Moments SBC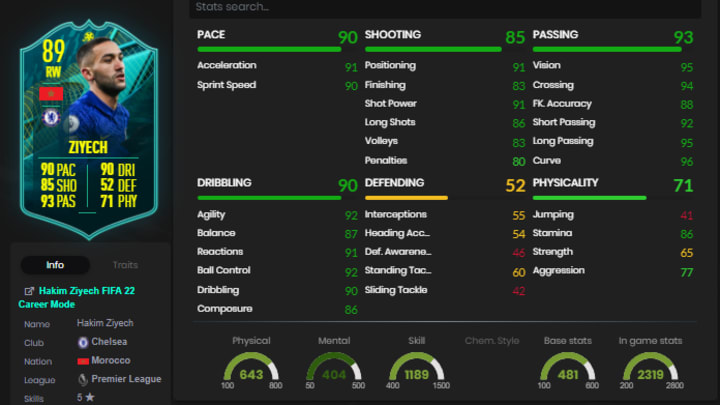 Photo by FUTBIN
Hakim Ziyech FIFA 22 Player Moments SBC went live Jan. 9 during the Headliners promotion.
Ziyech's Moments card doesn't reflect a specific time in the player's career, but in fact when he featured in the FIFA 19 Headliners promotion. The winger played for Ajax at the time and it was also the first ever Headliners promotion in FIFA Ultimate Team. The promotion has since become a mainstay of the Ultimate Team cycle.
Hakim Ziyech FIFA 22: How to Complete the Moments SBC
Here's how to complete the Moments Ziyech SBC in FIFA 22:
Segment 1
# of Players from Chelsea: Min. 1
Team of the Week Players: Min. 1
Squad Rating: 85
Team Chemistry: 75
# of Players in the Squad: 11
REWARD: Rare Mixed Players Pack
Segment 2
# of Players from Premier League: Min. 1
Squad Rating: 86
Team Chemistry: 65
# of Players in the Squad: 11
REWARD: Rare Electrum Players Pack
Ziyech's card is top-tier, make no mistake, but the one thing hampering his Moments item is that he still has a two-star weak foot. As a left-footed player, he'll be lethal cutting in from the right, but his right foot will let players down.
He does have the Outside Foot Shot trait which can alleviate some issues when shooting, but it's still something players need to take into consideration when figuring out whether or not to complete the SBC.
Other than that, it's a spectacular card. Fantastic dribbling, passing, pace and shooting should make this card feel lethal.
Moments Ziyech expires Jan. 16 at 1 p.m. ET.