Top Games
Hall of Ablution Resident Evil Village: How to Solve the Puzzle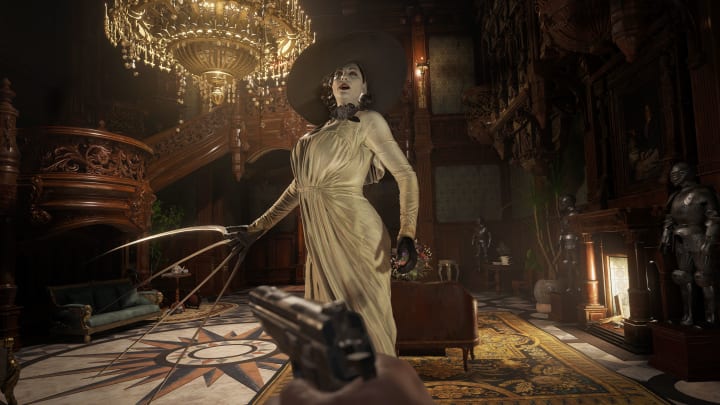 The Hall of Ablution puzzle in Resident Evil Village is proving to be a bit tricky for some players. / CAPCOM
The Hall of Ablution puzzle in Resident Evil Village is proving to be a bit tricky for some players.
This is the one obstacle standing directly between Ethan Winters and Lady Dimitrescu's Key. Players find the Hall of Ablution just before gaining access to Lady Dimitrescu's chambers. They'll be prompted to follow her up a flight of stairs from the courtyard. Unfortunately, the door to her room is locked, leaving only the Hall as a point of access for Ethan.
Hall of Ablution Resident Evil Village
The Hall of Ablution is less of a traditional hall and more of a small circular room made specifically for Lady Dimitrescu, herself. In the center is a pool of blood which we can assume she bathes in as "ablution" quite literally means ritual bathing. After all, it's no secret that her mutation causes her to consume human flesh and blood as a means of maintaining her form. Who's to say she didn't take a page out of Countess Elizabeth Báthory's book while she was at it?
The key to the puzzle is the inscription in the back of the room. It reads: "Women are blind to male advances, but the poor shall take their chances to give their Lord their bounty sown, so that soon the wine may flow."
The two women, "blind to male advances," should be facing each other and away from the men. The cluster of poor men presenting a box should be turned to face the mounted Lord to "give their Lord their bounty sown." Finally, the Lord mounted on horseback should be turned to face toward the woman holding the bottle of wine "so that soon the wine may flow."
Following this, the pool will empty itself, and the puzzle will be complete.