Top Games
Halo Infinite Winter Contingency Explained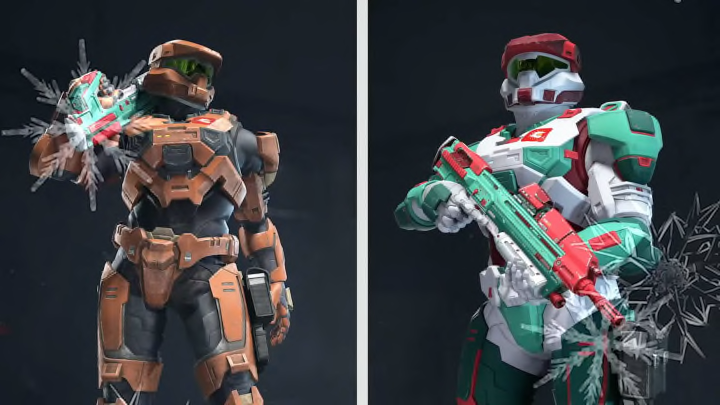 Photo by 343 Industries
Halo Infinite Winter Contingency is an event going live Tuesday Dec. 21.
The winter event was announced with a teaser during 343 Industries' Holiday 2021 Community Stream.
The event will be similar to a previous Halo Infinite event, Tenrai, where players were able to complete challenges and receive in-game cosmetics. But where Tenrai required specific challenges to be completed, Winter Contingency will only require playing a single game each day to unlock that day's reward. The holiday event is described as an advent calendar for Halo to reward players.
"It's all daily challenges, so no one gonna have to grind your weekly challenges. Just log in and play," stated Jerry Hook, head of design at 343 Industries.
Halo Infinite Winter Contingency Explained
"Play a game each day to unlock free rewards," reads the official description from 343 Industries. "These include armor pieces, an armor attachment, Holiday-themed coatings for your Spartans and weapons, along with a free nameplate, emblems, and a special backdrop."
Although 343 hasn't revealed all the rewards that will be available during the event, Halo Infinite data miners have done some revealing of their own. The leaked list of rewards is as follows:
Rank 1: Peppermint Laughter Mark VII Armor Coating
Rank 2: Wild Justice Armor Emblem
Rank 3: NAVLOGCOM Armor Emblem
Rank 4: Wild Justice Weapon Emblem
Rank 5: NAVLOGCOM Weapon Emblem
Rank 6: Peppermint Laughter MK50 Sidekick Coating
Rank 7: Wild Justice Nameplate Emblem
Rank 8: NAVLOGCOM Nameplate Emblem
Rank 9: Snowmageddon Nameplate Background
Rank 10: Peppermint Laughter MA40 Assault Rifle Coating
Halo Infinite Winter Contingency will begin on Dec. 21 and ends Jan. 4.