Harpy Warzone Blueprint: How to Get the MP7 Blueprint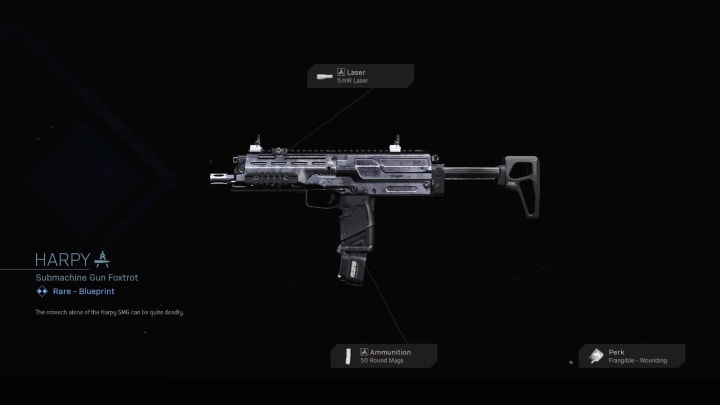 Harpy Warzone blueprint is a rare MP7 weapon variant that can be unlocked fairly easily through the Season 4 battle pass. / Photo by Infinity Ward via GamesAtlas
Harpy Warzone blueprint is a rare MP7 weapon variant that can be unlocked fairly easily through the Season 4 battle pass.
Weapon blueprints allow players to use weapons and weapon attachments that they have not yet unlocked. The MP7 is unlocked at Rank 54, so could be worth grinding the Season 4 battle pass to gain access to the MP7 and work on its attachments before it's fully unlocked if you're just starting to play Warzone.
Harpy Warzone Blueprint: How to Get the MP7 Blueprint
The Harpy Warzone blueprint is unlocked at Tier 8 of the Season 4 Battle Pass and is a rare blueprint meaning it comes with three attachments. The weapon's skin is very simple and gives the body of the weapon a simple silver finish.
Attachments:
Laser: 5mW Laser
Ammunition: 50 Round Mags
Perk: Frangible - Wounding
Not much changes to the weapon on paper with only a slight increase in accuracy and a slight decrease in control, but the 50 Round Mags and the wounding perk will make the weapon perform slightly differently. Not needing to reload as often means you can chase down to finish off enemies that have been affected by the wounding perk.
Check out other popular MP7 blueprints: