Heart of the Beast Blueprint Warzone: How to Get the Kar98K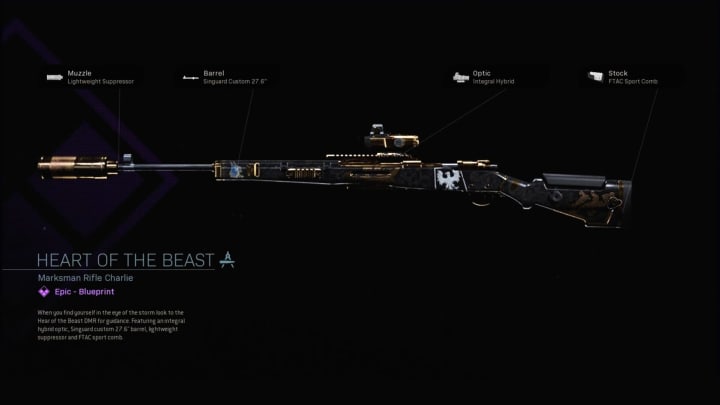 The Heart of the Beast Blueprint for the Kar98K is a nice variant for a weapon that is a Warzone regular in loot boxes and ground spawn RNG. / Photo by Infinity Ward via GamesAtlas
Heart of the Beast is an Epic Blueprint for Marksman Rifle Charlie - commonly known as the Kar98K - that will have you headshotting unaware victims in Warzone with style. The Blueprint is included in the Dragon Slayer Bundle on the Call of Duty: Modern Warfare store. The Kar98K is currently an RNG weapon that spawns on the ground and in loot crates in Warzone, so at this junction you should be very familiar with the weapon should you have been looking for or are inclined to use long range Marksman or Sniper Rifles.
The Dragon Slayer Bundle retails for 800 COD Points and also includes a Calling Card, Emblem, and Sticker. 
Heart of the Beast Kar98K Warzone Loadout
The Heart of the Beast Blueprint comes equipped with a few attachments to help with ADS time, a stat that is incredibly important for engaging enemies with Marksman and Sniper Rifles, as getting on target and being able to have time to land a second shot if necessary is the difference between life and death.
Heart of the Beast Default Attachments
Muzzle - Lightweight Suppressor
Barrel - Singuard Custom 27.6''
Optic - Integral Hybrid
Stock - FTAC Sport Comb
The lack of a fifth slot means you have free reign to add whatever other attachment you would like. We are going to tweak this loadout a bit to make it more competitive for Warzone - but feel free to add what makes you comfortable.
Heart of the Beast Best Warzone Loadout
Muzzle - Monolithic Suppressor
Barrel -   Singuard Custom 27.6"
Optic - Thermal Hybrid
Rear Grip - Stippled Grip Tape
Perk - Focus
This build focuses on the strengths of the Kar98K - which is a mid-long range rifle with the ability to do serious damage if focusing on head shots.
The Monolithic Suppressor does its job of keeping us off the radar at all times, while also boosting our damage range so you can challenge enemies at even greater distances. We're talking Sniper Rifle range here.

The Singuard Custom 27.6" is the longest barrel we have, and will give us the largest increase to our damage range, albeit at the cost of a longer ADS time.

Thermal optics are huge in Warzone, and the ability to see enemies in the early to mid-game before they have access to perks such as Cold Blooded to render them undetectable is a great boon. The Hybrid ensures that the weapon is still viable in situations where you are in closer range to a target, or the Thermal is obstructed.

Stippled Grip Tape on our rear grip will give us a faster ADS time, helping to offset some of the negatives brought on by the barrel and optic attachments.

The perk Focus ensures that even if we take a hit, our flinch animation will not throw us too off target. This is invaluable when you and your enemy spot each other simultaneously, and you have no recourse but to use your rifle in that situation. Steady your aim and go for the head.
WIth the Kar98K showing up frequently in Warzone through loot RNG, those who have taken a liking to the Marksman Rifle should enjoy this Blueprint immensely. Whether looking to supplement a strong primary weapon, or going for sick quick-scoping clips, this Blueprint ensures you do it gilded to the max.