Hearth & Home Set to Overhaul Cooking with New Ingredients in Valheim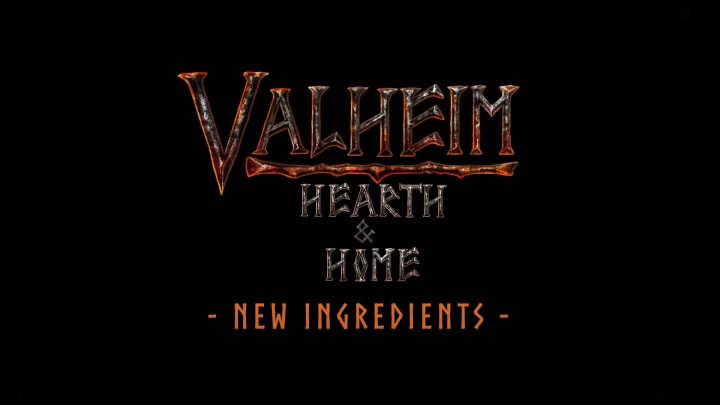 Iron Gate revealed its new cooking system in Valheim with an overhaul of ingredients, their categorization, and types of food. / Iron Gate Studios, Coffee Stain Publishing
Iron Gate revealed its new cooking system in Valheim with an overhaul of ingredients, their categorization, and types of food.
Iron Gate dropped another video in its YouTube series on what players can expect out of the upcoming DLC, Hearth & Home, on Aug. 30. This spotlight put food center stage once again with a preview of the latest types of food items, how to combine them, and what to do if you aren't satisfied with your current mix.
Here's everything new we know about cooking and new ingredients in Hearth & Home.
New Ingredients in Valheim DLC Hearth & Home
From now on, different animals will be dropping different types of meat when slain. This includes domestic animals such as boars and wolves as well as wild creatures like the lox. These will feature distinct icons, as well, so players won't be at risk of confusing them as easily.
Additionally, when combined with the new plantable vegetables such as onions, players will unlock a huge selection of recipes with types of food never seen in Valheim before. Some of these, however, will require a bit more effort than the typical roasting over a campfire.
Much like anvils and forges, cooking stations will need to be upgraded with extra structures such as the oven for baking breads and pies, a spice rack to store and dry collected spices, and a shelf for all your pots and pans.
Players who want to add a different combination of food to their stomach without waiting to digest will also have their own shortcut with "bukeberries." Popping one of these will make them sick to their stomach—literally. All the food items they've eaten will be forced right back up, allowing a new selection to take their place. Gross, but effective.
Hearth & Home launches on Sept. 16.