Top Games
Hitman 3 March 2021 Roadmap Revealed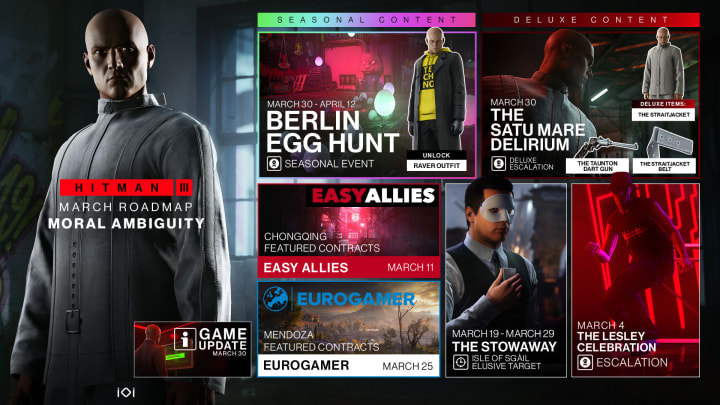 IO Interactive has released a full roadmap of all the items and content coming to Hitman 3 this March 2021. / IO Interactive
IO Interactive has released a full roadmap of all the items and content coming to Hitman 3 this March 2021.
The update is called "Moral Ambiguity" and features content such as new missions and holiday events, as well as unlockable items to help players along with the main campaign. According to the roadmap, players will have the opportunity to take on contracts designed by media outlets Easy Allies and Eurogamer starting early this month.
Hitman 3 March 2021 Roadmap
The month kicks off with The Lesley Celebration escalation mission on Thursday, March 4, where players will need to take down their targets while navigating the nightclub scene.
From there, players can play through featured contracts in Chongong on March 11 and Mendoza on March 24, outlined by Easy Allies and Eurogamer, respectively.
From March 30 to April 12, players can participate in Hitman 3's first-holiday event with an "Easter Egg Hunt" in Berlin. The mission includes finding poisonous glowing colored eggs around the map and requires them to "follow the white rabbit" to find their targets. Completing the event unlocks the Raver outfit—essentially a yellow graphic hoodie under a black trench coat.
Owners of the deluxe edition will gain access to The Satu Mare Delirium escalation event, also debuting on March 30. Agent 47 has been taken hostage, placed in a straitjacket, leaving players to help him fight his way out. Afterward, they will gain access to the Straitjacket outfit, belt, and Taunton Dart Gun.
Fans can upgrade to the deluxe version using the pack found on the in-game store and IO Interactive's Hitman website.