Top Games
Hitman 3 Year 2 Reveal Stream Set for January, One Week Before Content Release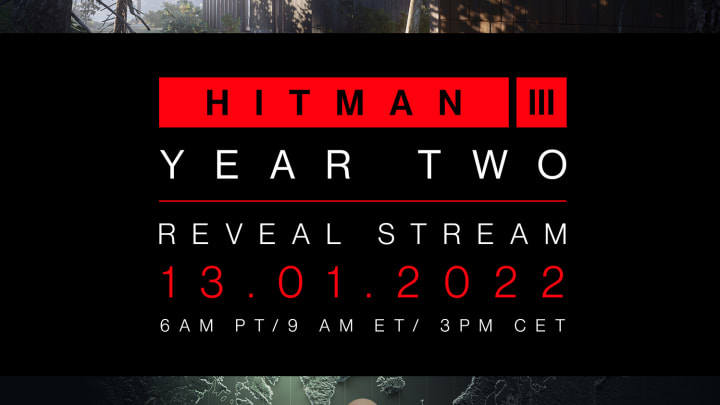 IO Interactive announced it would be revealing the roadmap for its Hitman Year 2 content later this week. / IO Interactive
IO Interactive announced it would be revealing the roadmap for its Hitman 3 Year 2 content later this week.
The announcement was made through the studio's verified Twitter account early on Tuesday, Jan 11. In the tweet, IO Interactive (IOI) revealed that the showcase would take place later this week through the official Hitman YouTube channel. Additionally, the studio highlighted a corresponding post on the news tab of their website.
"Join us later this week on 13 January for the reveal of our second year of post-launch content for HITMAN 3, including Elusive Target Arcade, PC VR, the reveal of a brand new game mode – plus other announcements, surprises and new footage!" IOI wrote
How to Watch the Hitman 3 Year 2 Reveal Stream
Fans can tune in to watch the Reveal Stream on the official Hitman YouTube channel tomorrow, Thursday, Jan. 13. It will debut at the following times:
9 a.m. ET
6 a.m. PT
3 p.m. CET
Clemens, IOI's Community Manager, and select members of the Hitman development team will be along for the ride with fans on a pre-recorded 15-minute reveal direct from the Copenhagen studio. The video will be "packed full of announcements, reveals and never-before-seen footage of new content coming to the World of Assassination in 2022."
The game's selection of Year 2 content is set to kick off next week on Thursday, Jan. 20.
Hitman 3 originally released last year on Jan. 20, 2021 for the PlayStation 4/5, Xbox One/Series X|S, Nintendo Switch, Microsoft Windows, Google Stadia.