Horizon Forbidden West 1.06 Patch Notes Highlights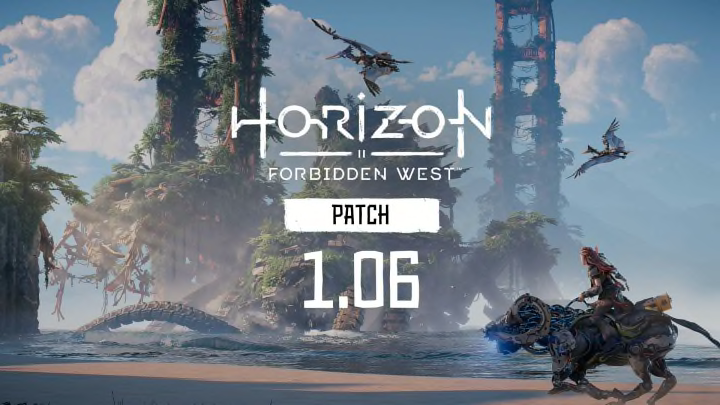 We've compiled the most important highlights for Horizon Forbidden West Patch 1.06. / Guerrilla Games
We've compiled the most important highlights for Horizon Forbidden West Patch 1.06.
Thanks to a new post on the official Horizon subreddit by Guerrilla Games, we have the most important pieces of information from the patch notes of the latest game update, Patch 1.06. Below, we've streamlined the entire patch, making sure readers get what they need to know without having to parse through dozens of listings.
Here's what you need to know about Horizon Forbidden West Patch 1.06.
Horizon Forbidden West 1.06 Patch Notes Highlights
Questing Bug Fixes
Players suffering from issues with the following main and side quests should find them resolved as of Patch 1.06:
Reach for the Stars
Death's Door
The Dying Lands
The Broken Sky
The Kulrut
Seeds of the Past
Singularity
The Blood Choke
The Promontory
The Wound in the Sand
A Tribe Apart
There should no longer be an issue when performing these actions while participating in their corresponding World Activities:
No more infinite black screen after stashing the Champion's Spear and attempting to enter the Chainscrape Melee Pit or fixing your loadout in Arena.
Removed the "wild loading screen" after leaving the Arena following challenge completion.
Cauldron Mu platform trap resolved.
The Stillsands: Pristine Bellowback salvage contract no longer causes an incorrect corpse spawn.
Machine Strike attack lock and compass reappearance have been fixed.
Scavenger machines correctly appear following the death of a larger machine.
Icons now display correctly in Dome View.
Salvage Contract: The Lost Supplies is now able to be turned in.
"The World on Her Shoulders" OST track plays and ends appropriately.
Graphical/Visual Adjustments
No more blurry Aloy in Photo Mode.
No more fuzzy Heavy Crossbow.
No more weird underwater cubemap.
No more layer separation with the Parallax Mapped Foam.
Overworld objects and NPCs should appear with the appropriate level of detail and no longer disrupt cinematics.
Corrected a set of mismatched craftable models at the bench.
Further distinction between Attack and Move indicators in Machine Strike.
Camera should now behave correctly, including in Chainscrape Tavern.
Improved noise reduction.
Low-health/Valor Surge vignette intensity has been reduced.
Additionally, players should find the game to be more stable in general with a noticeable decrease in crash frequency as well as unnecessary loading and/or black screens.
Miscellaneous Fixes and Adjustments
Overall cinematic improvements, including end credits.
Aloy will stop mentioning her stash all the time.
Mounts will behave appropriately on the road.
Aloy will behave when sprinting/sliding through the water north of Landfall.
Text alignment and localization have been improved.
Aloy will no longer freeze while swapping weapons in the middle of a Charged Attack.
Issues Remapping controls have been resolved.
Spear strikes during "Strike From Above" now make noise.
---
For the full patch notes, check out our companion article detailing every inch of information for Horizon Forbidden West Patch 1.06.