How Do Private Matches Work in Apex Legends?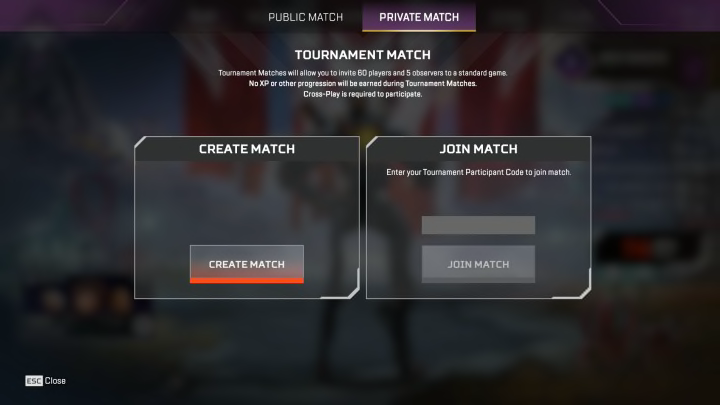 Respawn Entertainment
The Apex Legends Spellbound Collection Event update has added in private matches. Here's how they work.
There's a lot of content and updates coming to Apex in this latest patch, including the return of popular LTM Control. But arguably one of the biggest additions is private matches.
It's been a long time coming, but Respawn is finally set to add in the ability to create private matches in Apex Legends. Players have been asking for ways to host matches, tournaments and more with friends, and finally the feature is set to make its debut when the Spellbound Collection Event goes live. So, how does it work?
How to Create Private Matches in Apex Legends
Private match lobby. / Respawn Entertainment
Private matches, or tournament matches, allow you to invite up to 60 players and five observers into a standard game. There's no XP or progression earned for these matches, making them purely for fun. Cross-Play is also required to be enabled for the feature to work.
To host a private match, players will need to do the following:
Select a mode
Under the Private Match tab, select create match
Create a tournament code 
Have other players to join using the custom code 
Customize your teams 
Respawn have announced that more FAQs on the new feature will be added closer to Apex's next patch.
The Apex Legend Spellbound Collection Event will go live on Jan. 10, 2023.