How Many People Play Elden Ring?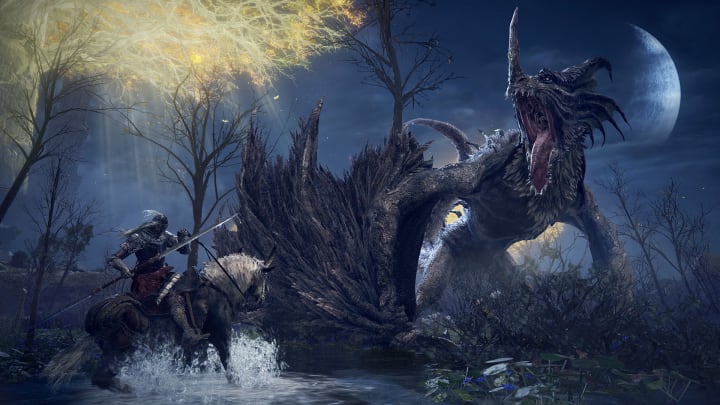 Elden Ring, FromSoftware's latest fantasy action RPG, was released on Feb. 24, 2022. / Image courtesy of FromSoftware
How many people play Elden Ring?
Less than a month removed from its official release, it appears Elden Ring has cemented itself as the start of a new franchise for developer FromSoftware and publisher Bandai Namco. As announced in a press release Tuesday, Elden Ring has already shattered the launch sales of previous Souls games in 17 days, surpassing 12 million units sold around the world, with one million being sold in Japan alone.
As such, to put into perspective just how impressive the levels of support Elden Ring has seen lately as a title of a once-niche genre, here's a breakdown of its player count.
Elden Ring Player Count 2022
Unfortunately, it's generally tough to get a clear, exact official number of the player counts of games as developers and publishers typically don't share their player data outside of when they hit new milestones.
Thankfully, we do know that at least 12 million copies of Elden Ring have been played around the world.
Additionally, according to SteamDB on March 3, 2022, Elden Ring clocked an all-time peak of 953,426 concurrent players on Steam — the sixth-highest number ever recorded on the platform.
This past week, Elden Ring seems to have fluctuated between 300,000 and 500,000 players on Steam.
Of course, these numbers only reveal the players that are currently enjoying the game on PC and don't shed any light on the console player base.
"It's astonishing to see just how many people have been playing Elden Ring," FromSoftware President and CEO/Director Hidetaka Miyazaki said in a recent press release. "I'd like to extend our heartfelt thanks on behalf of the entire development team. Elden Ring is based on a mythological story written by George R. R. Martin. We hope players enjoy a high level of freedom when adventuring through its vast world, exploring its many secrets and facing up to its many threats. Thank you for your continued support."
Elden Ring is available now for PlayStation 4, PS5, Xbox One, Xbox Series X|S and Windows PC (via Steam).