Valorant
How Many Skins Are in Valorant?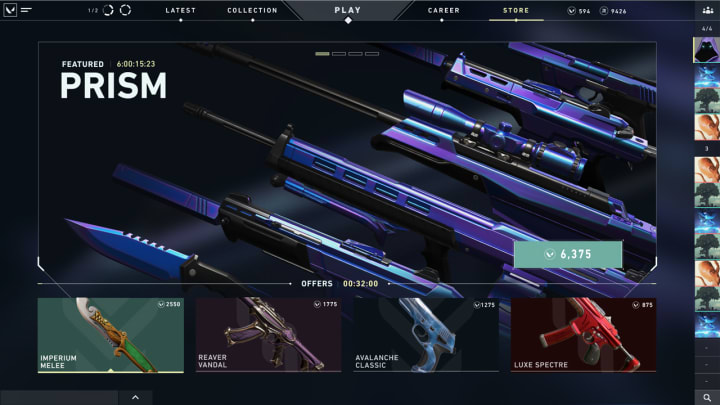 Photo courtesy Riot Games
How many skins are there in Valorant is a question many beginner players start to ask when they want to dazzle up their weapons. And when looking at the store for weapon skins, it can be mistaken that what is on display for sale is the only skins that have been released by Riot Games. But each weapon skin has its own categorization in terms of rarity and price, and each skin may not come for each weapon.
How Many Skins are in Valorant?
Before discussing how many skins there are, the categorization of each skin and their price breakdown is important to understand.
Select - 875 VP (~ $10) per individual skin, 2,930 VP (~$34)/3,500 VP (~$41) per bundle
Deluxe - 1,275 VP (~$16) per individual skin, 5,100 (~$62) per bundle
Premium - 1,775 VP (~$23) per individual skin, 7,100 VP (~$82) per bundle
Ultra - 2,475 VP (~$30) per individual skin, 9,900 VP (~$119) per bundle
Exclusive - Varies
Here's a breakdown of how many skins are available for each weapon in the game, as of Dec. 12:
Melee
Sidearms
Classic - 25 weapon skins
Shorty - 11 weapon skins
Frenzy - 19 weapon skins
Ghost - 24 weapon skins
Sheriff - 25 weapon skins
SMGs
Stinger - 15 weapon skins
Spectre - 26 weapon skins
Shotguns
Bucky - 20 weapon skins
Judge - 18 weapon skins
Rifles
Bulldog - 15 weapon skins
Guardian - 23 weapon skins
Phantom - 30 weapon skins
Vandal - 31 weapon skins
Sniper Rifles
Marshall - 13 weapon skins
Operator - 25 weapon skins
Machine Guns
Ares - 20 weapon skins
Odin - 11 weapon skins
If there is a specific skin a player wants, the chance of that skin being on the market anytime soon can be quite a struggle, as the process is randomized. Players will have to hope that a previously released skin returns in some fashion if they are to purchase it.