Fortnite
How Much is Fortnite's Corrupted Legends Pack?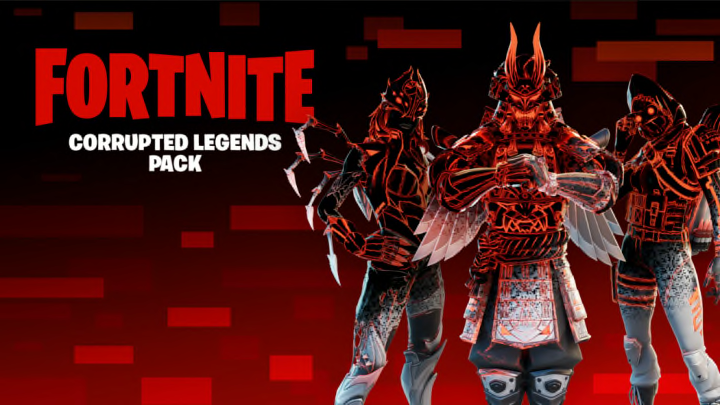 Photo Courtesy of Epic Games / Photo Courtesy of Epic Games
Fortnite introduces many different skins players can use whenever they drop into a game. One set of skins that were introduced in the Fortnite store recently is the Corrupted Legends pack.
Fortnite has had a lot of notable skins introduced into the game in the past few months. This past season of Fortnite included Darth Vader and Indiana Jones, two iconic characters that I do not think many expected to be playable in the battle royale game. Fortnite also introduced another Star Wars character recently when Obi-Wan Kenobi was placed in the shop ahead of the Kenobi release on Disney+.
While you can always get a skin with v-bucks on the store page, some skins are placed in a pack requiring players to pay with a card to secure the pack. That is the case for Fortnite's Corrupted Legends Pack.
How Much is Fortnite's Corrupted Legends Pack?
The Fortnite Corrupted Legends Pack can be purchased in the Epic Games store or on whatever console you are playing Fortnite. The Corrupted Legends pack costs $15.99 and does not take v-bucks when trying to buy the pack.
While that price might seem high, here is everything that is included in the pack via the Epic game store:
- Corrupted Arachne Outfit
- Corrupted Long Legs Back Bling
- Corrupted Insight Outfit
- Corrupted Sight Sling Back Bling
- Corrupted Shogun Outfit
- Corrupted Bladed Wings Back Bling
Epic also recently made some changes to their purchasing and cancelation settings. You can check out that news with the tweet below:
We are under a week from the release of Chapter 3 Season 4 in Fortnite. The new season is scheduled to release on Sept. 18, 2022, and will include some big skins in the battle pass. If you are interested in getting the Corrupted Legends Pack move quickly because we do not know how much longer it will be in the store!