How to Absorb Attacks in God of War Ragnarök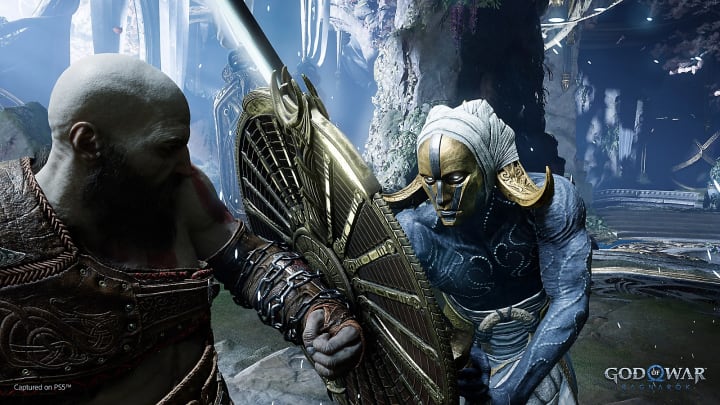 By default, your shield can be activated by pressing the L1 button. / Santa Monica Studio
In God of War Ragnarök, knowing how to absorb attacks is crucial for responding to incoming attacks.
Especially in moments where you find yourself up against large mobs of enemies, which happens often in God of War Ragnarök, it's simply impossible to fight them all at once. As such, here's a breakdown of how to absorb attacks in God of War.
How to Absorb Attacks in God of War Ragnarök
To absorb attacks in God of War Ragnarök, players must simply raise their shield by pressing and holding L1 for as long as they need it. This is pretty much nothing new in the God of War games, as blocking and absorbing attacks allows you to stand your ground, meaning you can strike back swiftly and keep pressure on your enemies.
Be aware that outside of the normal attacks, there are some that will force you to adjust. Enemy attacks with Yellow Rings around them can be parried, but if you try to block them, they'll break your guard and open you up to potential danger. Attacks with Red or Double-Blue Rings are simply too powerful to be blocked or parried, and will do damage to Kratos even with his shield raised.
An added wrinkle with blocking in God of War Ragnarök, however, is that there other shields that can be used other than the Guardian Shield that come with their own stats and traits to vary combat tactics.
For instance, the Stone Wall Shield encourages players to block more and absord incoming attacks to charge up its Shield Slam ability that can launch enemies.