FIFA
How to Activate Crossplay in FIFA 22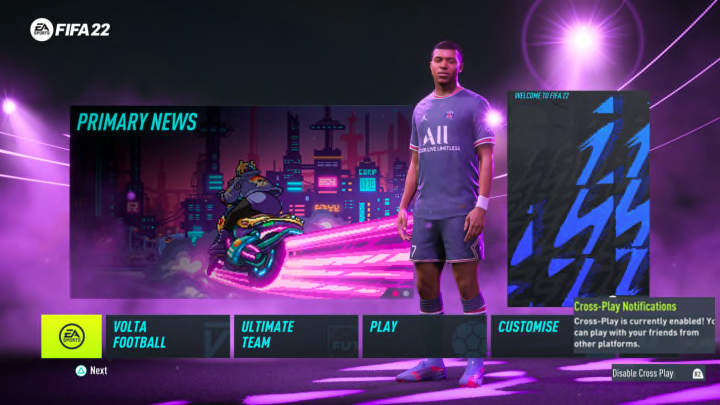 FIFA 22 is the first installment of the virtual soccer series to test cross-play functionality. / Photo Courtesy of EA Sports
FIFA 22 is the first installment of the virtual soccer series to test cross-play functionality. According to FIFA 22's Direct Communication account on Twitter, cross-play testing is now live for Online Friendlies and Seasons in FIFA 22.
Crossplay allows players to play against friends or other players from other consoles apart from their own. Games like Call of Duty: Warzone and Overwatch allow for players to crossplay with other systems to play online, however, FIFA has never implemented it until now. Here's how to activate crossplay in FIFA 22.
How to Activate Crossplay in FIFA 22
As mentioned earlier, crossplay is now live exclusively in online friendlies and online seasons. The Cross-play test is available to all players on the PlayStation 5, Xbox Series X|S, and Stadia versions of FIFA 22.
When you're in the main menu of FIFA 22, you can find a widget in the bottom right-hand corner that can be opened with the corresponding button prompt. This will allow you to enable cross-play or disable it. According to EA, you can also search for friends regardless of their platform with this widget, and you can also block and/or mute someone if desired.
In order to Cross-play with a friend in Online Friendlies during this test, first, you'll want to open the widget we mentioned above and add your friend to the in-game friend's list. You can search for your friend by their platform or EA username as indicated by the on-screen button prompt. Once you have found your friend's name, select them and choose the option to add them as a friend. Your friend should accept your request in the widget.
To play with a friend, you can select their name from your friend's list in the widget and follow the button prompts to invite them to a match. You can also simply enter the Online Friendlies mode and select your friend from the list presented on the screen to invite them to a match.
You can also head into Online Seasons and test out the cross-play function there. As usual, matchmaking will search for an appropriate opponent, and they may or may not end up being on a different platform than you. It's that simple!
It's unknown how long this test will last in FIFA 22, or if we will see it in Ultimate Team, however, we do know that the function should arrive full time in FIFA 23.