How to Beat Alastor the Vigilant in New World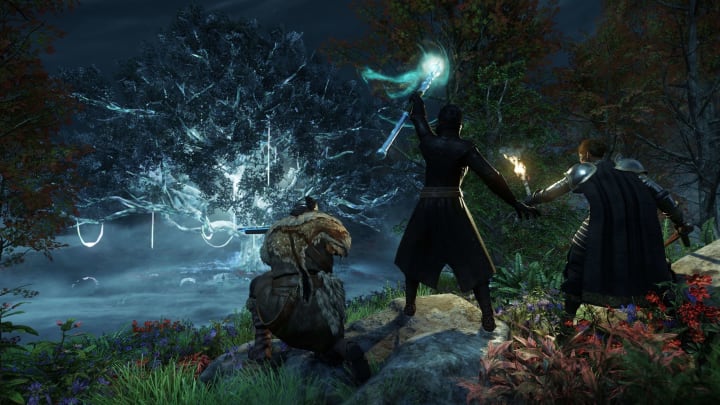 Players are trying to beat Alastor the Vigilant in New World. / Amazon Games
Players are trying to beat Alastor the Vigilant in New World.
Unfortunately, this is proving to be a bit more difficult than what they originally signed up for. It seems that during the quest, "The Ritual," players are unable to either find or actually get a swing at Alastor once he spawns. This isn't an uncommon problem, of course. Popular, difficult bosses often require lengthy questlines that can get confusing with several players waiting around for the same battle.
Here's everything there is no know about Alastor the Vigilant and his role in The Ritual.
Alastor the Vigilant in New World
Defeating Alastor is the main part of The Ritual quest, requiring players to first get their Heartgem and take it up to the Amrine Temple. After the battle, they can explore the inside and activate an altar with the gem to perform the actual ceremony. First, however, they'll need to beat back the guardian mage.
If he ever shows up, that is. It appears that Alastor isn't so vigilant, after all, considering he doesn't seem too eager to spawn for players to fight. Without completing that battle, the quest refuses to progress, leaving players stuck at the Amrine Temple—Heartgem in hand.
Several players as far back as of Thursday, July 22, have reported this particular encounter as bugged. One user on the official New World forums alerted developers to the issue and was told to try the following course of action:
Restart the quest ("J" to bring up the Journal, then Restart on the right)
Log out and in of New World
Unfortunately, the suggestion does not seem to fix the issue players are having. On the forum post, alone, players reported waiting over an hour in some cases. Others explained that while Alastor did eventually spawn for them, there were so many others waiting for the same fight that they were unable to tag him for the quest to complete.
New World devs have yet to publish a fix for Alastor's length spawn rate at the time of writing.
The Ritual is part of the Main Story questline and can be picked up from Yonas Alazar.