Fortnite
How to Complete Fortnite Season 5 Week 11 Challenges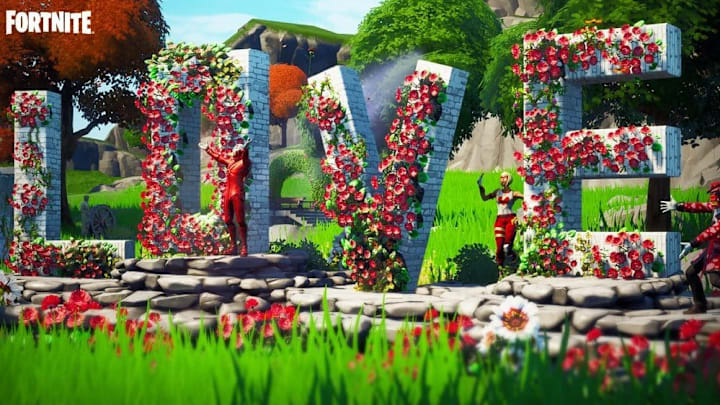 Courtesy of Epic Games
How to complete the Fortnite Season 5, Week 11 challenges is on everyone's mind. This weeks theme is based on Valentine's Day, and The Hearts Wild Event seems to be living up to the hype.
For this week's challenge, there are seven of the Epic quests, and one Legendary - which will allow you to gain a huge amount of XP if you complete it. The tasks aren't too difficult, but they are spread all across the map and nearly all fall in line with the Valentine's theme. So, what do you need to do?
How to Complete Fortnite Season 5 Week 11 Challenges
So for the most part the tasks are fairly straight-forward. Go here, collect this.
Catch different kinds of fish for Fishstick
Visit the Lazy Lake and get out your fishing rod! You'll need to find three fish here before searching for Fishstick and his date at (any) restaurant.
Serve Fishstick and his date a fancy dinner
You can do this at any restaurant on the map - just make sure that you have enough fish!
Collect Grimbles' Love Potion
You can find the Love Potion at any of these locations: Fort Crumpet, Stealthy Stronghold, or Coral Cove.
Deliver Grimbles' Love Potion
So now you have the Love Potion, you need to take it to Slurpy Swamp or Shanty Town.
You'll need to collect six of these chocolate boxes overall, and you can find them here: Holly Hedges, Retail Row, and Pleasant Park.
Another item you need to collect is a rose, which can be found either at The Orchard, or Steel Farms.
This one is the reason you had to collect all those chocolate boxes - then 'give a card' to an NPC. If you go up to an NPC, you'll notice that the 'interact' option has been replaced with 'give a card'.
And for the Legendary Quest?
Fairly simple, you just need to deal enough (5,000) damage to your opponents while using a crossbow.
Epic Games are certainly committing to celebrating the upcoming romantic holiday - and what better way to do that then earning a ton of XP?