FIFA
How to Complete the Daniel James Shapeshifter Objective in FIFA 22
By Michael Grullon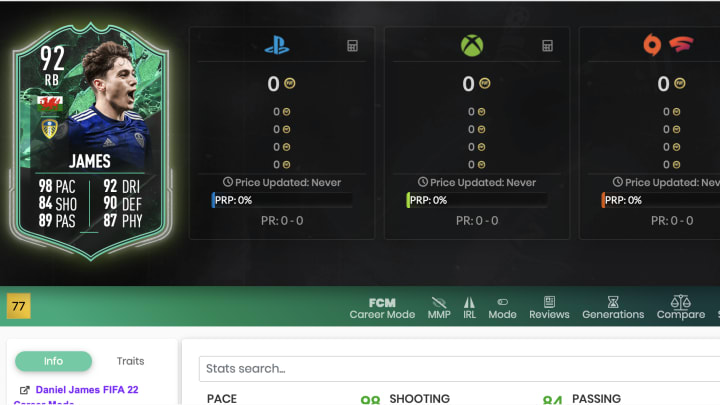 Daniel James of Leeds has been added to FIFA 22 as a Shapeshifters Objective for Shapeshifters Team 4. / Photo Courtesy of FUTBIN
Daniel James of Leeds has been added to FIFA 22 as a Shapeshifters Objective for Shapeshifters Team 4. James' Shapeshifters has been position-changed to right back, and is available as an Objective for a limited time.
Here's how to complete the Daniel James Shapeshifters Objective in FIFA 22.
Daniel James FIFA 22 Challenges: How to Complete the Shapeshifters Objective
Daniel James can be earned exclusively by completing this list of objectives in the Live FUT Friendly: Shifting Shape:
Assist 5 goals using Crosses with at least 3 Premier League players in your starting squad
Score in 4 separate matches using a player with a minimum of 90 Pace
Win six matches in the Live FUT Friendly: Shifting Shape
James' Shapeshifters item is a well-rounded RB from the Premier League. He's not amazing in any particular stat, but as a box-to-box RB, he can be solid. James's Shapeshifters Objective is of course free to play for, and also awards you with a few packs for your troubles.
If you have a mostly Premier League team or have completed Gareth Bale's EOAE SBC, you can easily get James on chemistry. The objective expires on July 15.