FIFA
How to Complete the Flashback Marco Veratti SBC in FIFA 22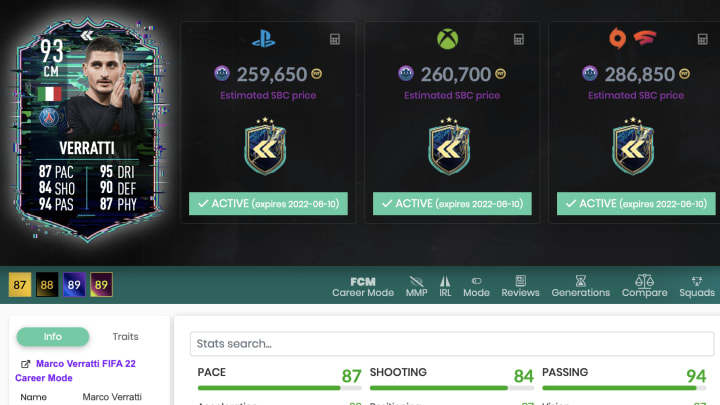 Marco Veratti has earned a Flashback SBC item in FIFA 22, flashing back to his inclusion in the Ligue 1 TOTS in FIFA 20. / Photo Courtesy of FUTBIN
Marco Veratti has earned a Flashback SBC item in FIFA 22, flashing back to his inclusion in the Ligue 1 TOTS in FIFA 20. His new item is 93 rated and adds another insane card to earn during Ligue 1 TOTS week.
Here is how to complete the new Veratti TOTS Flashback SBC in FIFA 22.
How to Complete the Veratti Flashback SBC in FIFA 22.
Veratti's Flashback SBC requires three squads to complete, each with the following requirements:
Squad 1
PSG Players: Min. 1
TOTW or TOTS Players: Min. 1
Team Rating: Min. 84
Team Chemistry: Min. 70
Reward: Prime Electum Players pack
Squad 2
Players from Italy: Min. 1
Team Rating: Min. 86
Team Chemistry: Min. 60
Reward: Rare Mixed Players pack
Squad 3
Ligue 1 Players: Min. 1
Team Rating: Min. 87
Team Chemistry: Min. 50
Reward: Rare Electrum Players pack.
Veratti had another special SBC card released in the first months of FIFA 22, a Rulebreakers SBC, which was a great card in its time. This card however is much better, with the N'Golo Kante style build of a small but strong defensive midfielder, who has the passing and dribbling to create plays even in the attack but the defensive strength to take the ball from any player in the defensive third.
This is an expensive SBC to complete, however, Veratti does look like a terrific card, and his price is fair with the amount of fodder you can obtain throughout TOTS. Veratti's TOTS Flashback item expires on June 10.