How to Complete the Gareth Bale End of An Era SBC in FIFA 22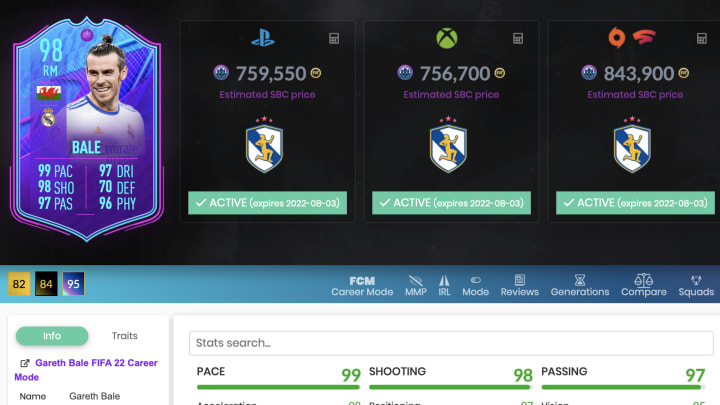 Gareth Bale has received an End of an Era SBC in FIFA 22. / Photo Courtesy of FUTBIN
Gareth Bale recently made the permanent move away from Real Madrid after nine years at the club. The Welsh-winger has had great cards for Madrid over the years in FIFA, and EA Sports has released his highest-rated card ever in Ultimate Team as an End of an Era.
The EOAE SBC was previously leaked, but it is finally available to complete for a limited time in FUT. Here's how to complete the new Bale EOAE SBC in FIFA 22.
Sqaud 1
Players from Real Madrid: Min 1
TOTW or TOTS Players: Min 1
Squad Rating: Min 84
Team Chemistry: Min 70
Reward: Premium Mixed Players Pack
Squad 2
Players from LaLiga: Min 1
Squad Rating: Min 87
Team Chemistry: Min 55
Reward: Rare Mixed Players Pack
Squad 3
TOTW or TOTS Players: Min 1
Squad Rating: Min. 88
Team Chemistry: Min. 40
Reward: Prime Gold Players Players Pack
Squad 4
Squad Rating: Min 89
Team Chemistry: Min 35
Reward: Jumbo Premium Gold Players Pack
Priced at over 700,000 coins from scratch, Bale is definitely an expensive SBC. However, with his insane stats and easy links to get chemistry from the LaLiga and Real Madrid, Bale may be the best SBC of the year. Bale's EOAE SBC is 98-rated, with a five-star skill move upgrade and a four-star weak foot.
He already has a 95-rated striker card, however, this Bale is placed at his native RW and has stats that are up there with PIM Pele and PIM Ronaldo. If you can complete this card, there's no doubt that Bale will play as a top-3 card in the entire game, maybe even better than any Kylian Mbappe card.
Bale's EOAE SBC expires on Aug. 3.