How to Complete the Hirving Lozano Shapeshifters SBC in FIFA 22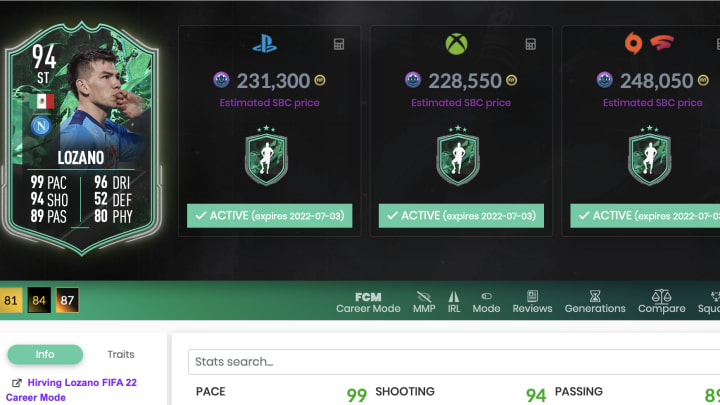 Hirving Lozano has been included in the Shapeshifters Team 2 in FIFA 22 as an SBC. / Photo Courtesy of FUTBIN
Hirving Lozano has been included in the Shapeshifters Team 2 in FIFA 22 as an SBC. The Shapeshifters promo is now live and features huge stat boosts, position changes, and skill-move/weak-foot upgrades.
Lozano's Shapeshifter's card is a 94-rated ST, with 4* skill moves and a 5* weak foot. He was released alongside the mini-release of Shapeshifters Team 2. Here's how to complete the new Shapeshifter's SBC.
Hirving Lozano Shapeshifters SBC Requirements
Squad 1
Serie A Players: Min. 1
Team Rating: Min. 85
Team Chemistry: Min. 70
Reward: Prime Electrum Players Pack
Squad 2
Team Rating: Min. 86
Team Chemistry: Min. 60
Reward: Rare Electrum Players Pack
Lozano's Shapeshifters card can be a decent attacker for Serie A players, with a few key upgrades. Adding a Marksman or Engine Chemistry style would make Lozano good at CAM, ST or along the wing, with perfect pace and great dribbling upgrades. Alongside the Felipe Anderson Shapeshifters item, you can have an insane attack from the Italian league.
Lozano already has a LW TOTW item and Europa League RTTF in FIFA 22, but the upgrades Shapeshifters item is miles ahead of those items. The price for the item being just under 200,000 coins is also very fair, making this a good-value SBC that you should definitley complete to add Lozano to your Serie A teams.
Lozano's Shapeshifters SBC expires on July 3.