How to Complete the Lorenzo Pellegrini TOTS SBC in FIFA 22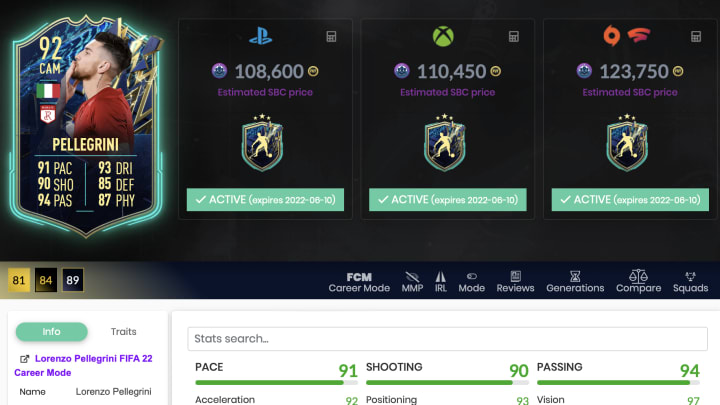 Lorenzo Pellegrini of Roma FC has earned a TOTS item in FIFA 22, and is included in the Serie A TOTS as an SBC / Courtesy of FUTBIN
Lorenzo Pellegrini of Roma FC has earned a TOTS item in FIFA 22, and is included in the Serie A TOTS as a Squad Building Challenge. His TOTS item is a 92-Rated CAM, and looks to be another great box-to-box midfielder from the Italian league.
His SBC is only available for a limited time, so here's how to complet the new TOTS Pellegrini SBC.
FIFA 22: Lorenzo Pellegrini TOTS SBC Requirements
Squad 1
Players from Italy: Min 1
TOTW or TOTS Players: Min 1
Team Rating: Min 83
Team Chemistry: Min 75
Reward: Prime Mixed Players pack
Squad 2
Players from Serie A TIM: Min 1
Squad Rating: Min 85
Team Chemistry: Min 70
Reward: Rare Mixed Players Pack
The SBC costs just over 100,000 coins in total, which is a fair price compared to the other midfield options we have from the Serie A TOTS. Pellegrini is Italian, which is an easy nationality to get chemistry links for in FIFA 22. He can strong link to other TOTS players such as Sandro Tonali and Ciro Immobile, making for solid squads.
You can play Pellegrini anywhere in the midfield and even in an attacking role, with his well-rounded passing, dribbling and defending stats. 4* skill moves and weak foot make this card very versatile, and a good SBC card to complete. Pellegrini's TOTS SBC expires June 10.