FIFA
How to Complete the Niklas Dorsch Bundesliga TOTS Moments SBC in FIFA 22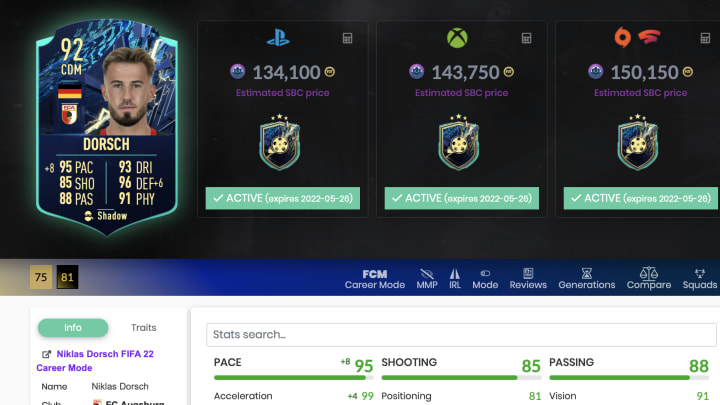 Niklas Dorsch has been awarded a Bundesliga TOTS Moments card in FIFA 22 / Photo Courtesy of FUTBIN
Niklas Dorsch has been awarded a Bundesliga TOTS Moments card in FIFA 22, celebrating his goal-of-the-season caliber shot against FC Köln on matchday 15 in the 21/22 Bundesliga season. You can earn his TOTS moments card by completing an SBC that is live in-game now.
Niklas Dorsch Bundesliga TOTS Moments SBC
Squad 1
Players from Germany: Min. 1
Team Rating: Min. 84
Team Chemistry: Min. 70
Reward: Premium Gold Players pack
Squad 2
Players from Bundesliga: Min. 1
Team Rating: Min. 85
Team Chemistry: Min. 65
Reward: Prime Electrum Players pack
The SBC comes out to around 140,000 coins in total, according to FUTBIN. It's a hefty price with how many Bundesliga midfielders there already are in FUT, but this card definitely looks like one of the better ones. With his high level of dribbling and great passing, a shadow chemistry style will make Dorsch a lockdown CDM.
An interesting part of Dorsch's stats is that he only has 80 long shots. His card commemorates a long-shot goal, yet his long-shot rating is still pretty average. Despite this, Dorsch has the physical and defensive stats to be one of the better Bundesliga CDMs in the game. If you can pay the price, this card is a very good one to have in your club.
Dorsch's TOTS Moments SBC expires on May 26.