How to Complete the Thomas Delaney Shapeshifters Objective in FIFA 22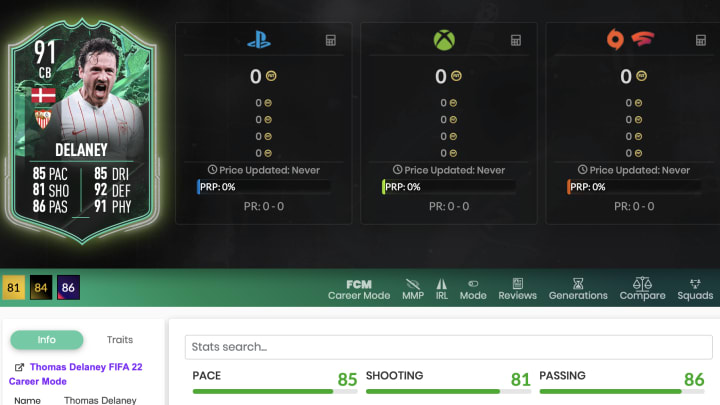 Thomas Delaney of Sevilla has been added to the FIFA 22 Shapeshifters promo as an objective player. / Photo Courtesy of FUTBIN
Thomas Delaney of Sevilla has been added to the FIFA 22 Shapeshifters promo as an objective player. Delaney's Shapeshifters item is a 91-rated center-back and can be completed for free for a limited time.
Here's how to complete the new Delaney Shapeshifters objective in FIFA 22.
Thomas Delaney FIFA 22 Shapeshifters Objectives: Full List
Thomas Delaney can be earned exclusively by completing this list of objectives in Squad Battles or Division Rivals:
Assist 4 goals using Defenders (Reward: Gold Pack)
Score 5 goals using Danish players (Reward: 75+ Rated Rare Player pack)
Score a goal from a Cross using Bundesliga players (Reward: Electrum Players Pack, Summer Swap Token Duin)
Win 8 matches in Squad Battles on min. Professional difficulty with 11 Bundesliga Players in your Starting Squad (or Rivals) (Reward: Electrum Players Pack)
For a free-to-earn Shapeshifters card, Delaney looks like another solid center-back from LaLiga. With an anchor chemistry style, Delaney is very good, with great defending and physicals, as well as low-high work rates. There are many options in the league for defenders, but for a free objective, he is a decent option for which to grind.
Delaney's Shapeshifters Objective is available for the next 7 days, until Saturday, July 2.