How to Complete the Tomáš Holeš TOTS SBC in FIFA 22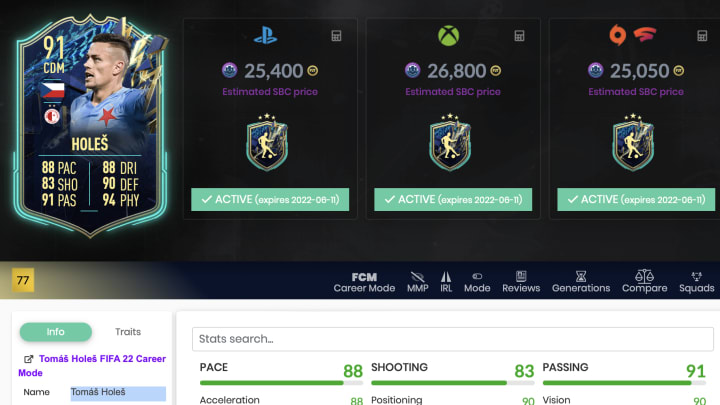 Tomáš Holeš TOTS SBC is live in FIFA 22 / Photo Courtesy of FUTBIN
Tomáš Holeš of Slavia Praha has earned a TOTS item in FIFA 22, and is included in the Rest of World TOTS a Squad Building Challenge. His TOTS item is a 91-Rated CDM, and if you can fit him into a squad on chemistry, can be a solid ball-playing defensive midfielder.
His SBC is only available for a limited time, so here's how to complete the new TOTS Holeš SBC.
FIFA 22: Tomáš Holeš TOTS SBC Requirements
TOTW or TOTS Players: Min 1
Squad Rating: Min 82
Team Chemistry: Min 75
This SBC is a very affordable one, costing just over 20,000 coins. Holeš looks like a great CDM, his main downside being the difficulty of linking him into a squad. Your best chance at a FUT Champions-caliber squad with Holeš in it is getting him on chemistry with Icons, like a strong link to Pavel Nedvêd.
If you cannot fit him into a squad, Holeš can make for good 91-rated fodder to throw into another SBC, such as Lorenzo Pellegrini's newly released TOTS SBC. For only 20,000 coins, it's a good deal for a card that highly rated.
The Tomáš Holeš TOTS SBC expires Saturday, June 11.