FIFA
How to Complete the TOTS Moments Ludovic Ajorque Objective in FIFA 22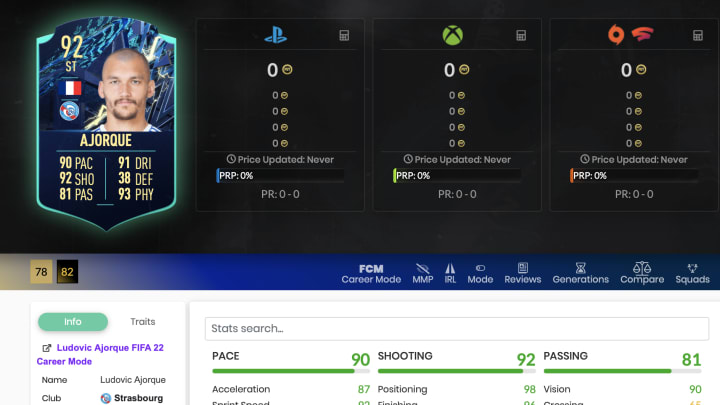 Ludovis Ajorque of Ligue 1 club Strasbourg has been featured as a Ligue 1 TOTS Moments in FIFA 22. / Photo Courtesy of FUTBIN
Ludovis Ajorque of Ligue 1 club Strasbourg has been featured as a Ligue 1 TOTS Moments in FIFA 22. His card is 92-rated and is now available in FIFA 22 for a limited time as an objective.
Ajorque's TOTS item is available to complete as an objective in Squad Battles or Division Rivals. Here's how to complete the new Ajorque Objective now in FIFA 22.
TOTS Moments Ludovic Ajorque Objective Requirements
Score 3 Headers in Squad Battles on min. Semi-Pro difficulty (or Rivals)
Assist 4 goals using French players in Squad Battles on min. World Class difficulty (or Rivals)
Score using Ligue 1 players in 5 separate Squad Battles matches on min. Professional difficulty (or Rivals)
Win 8 matches in Squad Battles on min. Professional difficulty with 11 Ligue 1 players in your starting squad (or Rivals)
The Ajorque TOTS Moments Objective is available for one week, until Friday June 3. For a free to play for card offline, Ajorque looks like a solid card, resembling the Wout Weghort Showdown SBC released in April. Ajorque is 6'6", meaning he will tower over other players with his 93 physicals, but had the shooting to put the ball in the net from anywhere. The biggest downside to this card is the 3* skill moves and 4 * weak foot, however, he has the ability to be a unique striker to add to your French and Ligue 1 squads for free.