How to Cure Poison in Elden Ring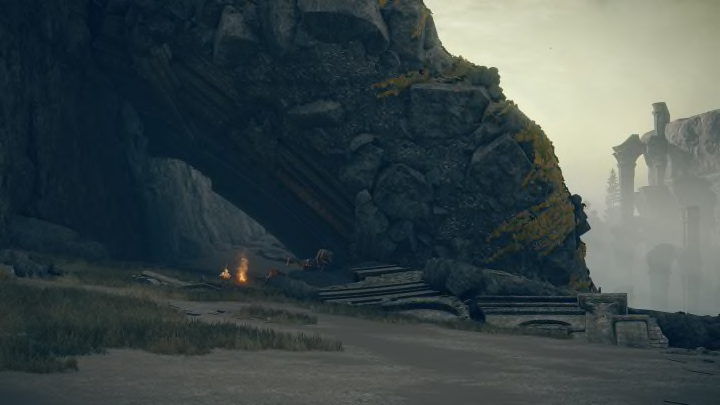 This Nomadic Merchant sells the recipe for crafting cures to poison. / Courtesy of FromSoftware/Bandai Namco, Screenshot by Noam Radcliffe
Players are trying to figure out how to cure poison in Elden Ring.
In this action role-playing game, poison is one of the most annoying status effects. Once gamers come into contact with it, a meter appears at the bottom of the screen. If the meter fills up all the way, they will be poisoned. At this point, the poison will continuously whittle away at the player's HP. Healing items can be used to stay alive but curing the poison will be the best decision.
Now that Elden Ring fans know more about how poison negatively affects them, here's how to cure it.
How to Cure Poison in Elden Ring
There are two main ways to cure poison in Elden Ring.
The first method is to use Neutralizing Boluses. These are consumable items that can be bought, crafted, or found. To purchase them, visit the Nomadic Merchant in the southwest corner of Limegrave. Players will be able to buy them for 600 runes apiece.
Head here to find the Nomadic Merchant that sells the Armorer's Cookbook [2]. / Courtesy of FromSoftware/Bandai Namco, Screenshot by Noam Radcliffe
If gamers wish to craft Neutralizing Boluses instead, they'll need one Herba, one Cave Moss, and one Great Dragonfly Head, along with the Armorer's Cookbook [2]. Once players have these items, the Neutralizing Boluses will be able to be crafted. The final method to obtaining Neutralizing Boluses is through exploring the world and finding them naturally. Keep in mind that coming across them might be rare, as it all depends on which route is taken.
The second way to cure poison is with the Cure Poison Incantation. This spell will require players to have 10 Faith, which should be easily attainable, and a catalyst. Cure Poison can be acquired from Brother Corhyn at the Roundtable Hold for 1,000 runes. Once cast, it will cure poison ailment and reduce poison build-up.
Both of these methods will be effective in removing poison so it's all up to the player to decide which way to go about curing poison.