Valorant
How to Earn the Riot Fist Bump Gun Buddy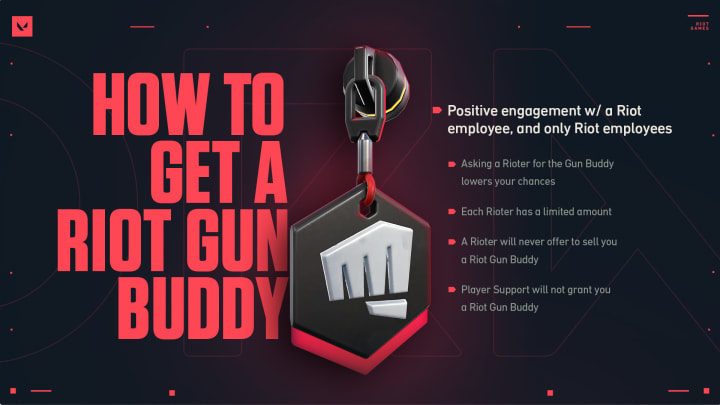 Riot Games has released a Riot Fist Bump Gun Buddy charm in Valorant and players are interested to learn how to earn it. / Riot Games
Riot Games has released a Riot Fist Bump Gun Buddy charm in Valorant and players are interested to learn how to earn it.
As we all known, fashion is endgame. Cosmetics, trophies, and trophy-based cosmetics are among the most coveted and respected visual aspects of competitive games — including Valorant. In an attempt to use this to their advantage, Riot Games has decided to put this philosophy to the test with the release of their exclusive Riot Fist Bump gun buddy.
Here's how to get one.
How to Earn the Riot Fist Bump Gun Buddy
In short: players can earn the Riot First Bump gun buddy by demonstrating good sportsmanship in a Valorant match with a Riot employee — or "Rioter" — present.
"While you should always demonstrate these traits, you only have a chance of receiving a Fist Bump if a Riot employee sees you in action," the game's support page states.
Rioters also have a limited number of gun buddies they can give away so its unlikely that simply asking one for it will do much of anything. In fact, Riot Games strictly advises against it several times, explaining that asking for one will likely only lessen their chances.
This includes submitting tickets claiming good behavior or directly asking a Rioter on social media or otherwise.
"The Fist Bump is a reward for good sportsmanship, not a reward for following Rioters on Twitter," the page states.
Additionally, Rioters will never offer to sell you a gun buddy or offer it in a giveaway. These are undoubtedly scams that players should avoid and report with the player's name.
---
Are you looking to up your Valorant strategy? Check out what these VCT Pros say the most OP Ultimate ability is in the game.