Pokémon
How to Evolve Galarian Farfetch'd into Sirfetch'd in Pokemon GO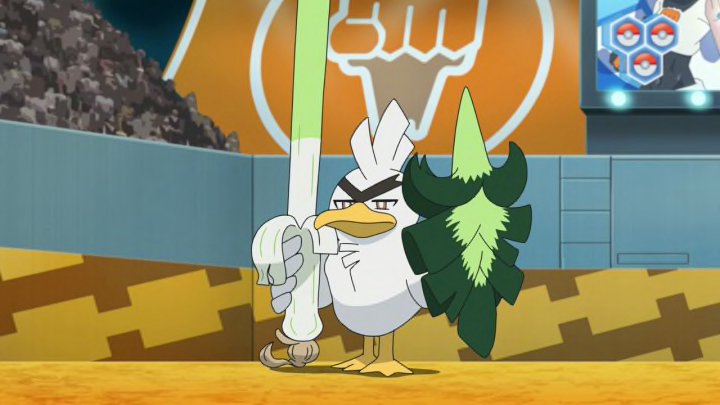 We've written up a guide on how trainers can evolve their Galarian Farfetch'd into a Sirfetch'd in Pokemon GO. / The Pokemon Company, Niantic Labs
We've written up a guide on how trainers can evolve their Galarian Farfetch'd into a Sirfetch'd in Pokemon GO.
Galarian Farfetch'd is one of many Pokemon that require a unique avenue of evolution in the Pokemon franchise. This has translated into the augmented reality mobile title, Pokemon GO, where trainers are required to complete a special task in addition to collecting the correct amount of candies.
Here's how to add Sirfetch'd to your team.
How to Evolve Galarian Farfetch'd into Sirfetch'd
Trainers can evolve their Galarian Farfetch'd into a Sirfetch'd by making 10 "Excellent" throws while the Pokemon is their buddy. They'll also need to have collected 50 Farfetch'd candies.
This is meant to symbolize the critical hits needed to evolve this Pokemon in Pokemon Sword and Shield.
It should be noted that this evolution only evolves from Galarian variants of Farfetch'd. While this species does have a Kanton regional form, any Farfetch'd hailing from Kanto are ineligible for evolution into Sirfetch'd allegedly due to a typing discrepancy.
Essentially: something about Galarian Farfetch'd and Sirfetch'd being fighting-types while Kanton Farfetch'd is normal and flying could be the reason behind this.
The two variants are easily told apart by color, stance, and the side of the leek they carry. Galarian Farfetch'd are darker, have a larger leek, and carry it on their shoulder instead of in one of their wings. It's possible that this evolutionary split has occurred because of the leeks, themselves, which are larger and sturdier in Galar. These Farfetch'd are known to be brave warriors who took on a unique form in order to adapt to wielding them.
Sirfetch'd carries its leek in two parts, using the sharpened stalk as a sword and the hardened leaves as a shield. Only Farfetch'd who survived many battles can attain this evolution.