Pokémon
How to Evolve Salandit into Salazzle in Pokemon GO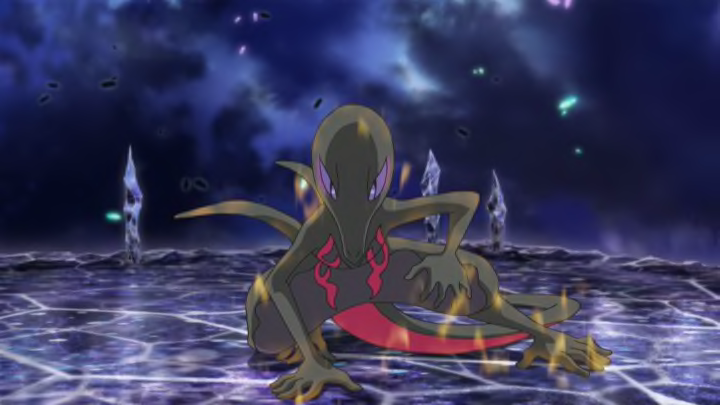 Trainers want to know how they can evolve their Salandit into a Salazzle in Pokemon GO. / The Pokemon Company
Trainers want to know how they can evolve their Salandit into a Salazzle in Pokemon GO.
Salandit and Salazzle have made their Pokemon GO debut alongside the All-Hands Team GO Rocket Retreat. These two "Toxic Lizard" Pokemon hail from the Alola region and are dual poison and fire types. Salazzle is exclusively female and uses a unique type of pheromone to entrance Salandits and form a sort of reverse-harem. Any Salandit that proves to be useless or fails in securing food is punished "with a fierce slap of its flame-spewing palm."
Salandit and Salazzle's PokeDex numbers are #757 and #758, respectively.
Here's what you need to know to successfully evolve Salandit into Salazzle.
How to Evolve Salandit into Salazzle
Trainers can evolve their female Salandit into Salazzle using 50 candies.
As Salandit can only be obtained by hatching 12 k.m. eggs, trainers will need to commit to both defeating all three Team GO Rocket executives and walking the distance needed to hatch each egg. 12 k.m. eggs give anywhere between 16-32 candies so obtaining that amount shouldn't be a problem.
Rather, the real problem with evolving Salandit into Salazzle comes from its gender ratio. Salandit are over 80% male, but only the females of the species evolve, meaning trainers have a limited opportunity to secure a female Salandit.
Once evolved, Salazzle has the following stats:
Maximum CP: 2802
Maximum HP: 154
Attack: 228
Defense: 130
Stamina: 169
Trainers can check out guide on how to get Salandit and Salazzle in our auxiliary guide.