How to Find Candy in Fortnite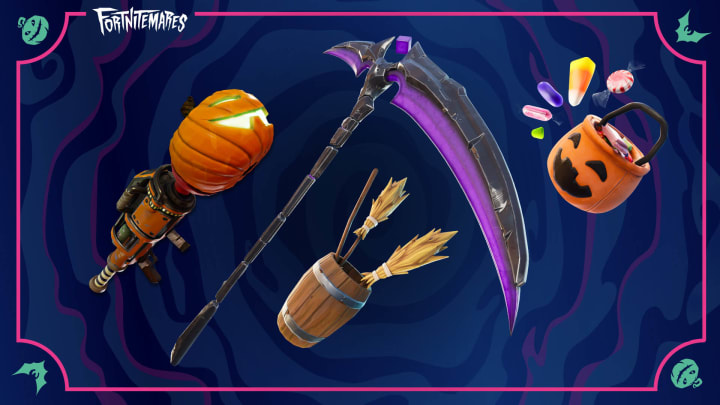 Image provided by Epic Games. /
Fortnitemares is back and better than ever, and challenges to commemorate the spooky season occupy players in the meantime. Here's how to find candy in Fortnite.
Candies aren't new to Fortnite, as they were introduced in 2020's Fortnitemares. Like fruit and vegetables, they can be acquired and carried around for consumption during matches. This year, they're necessary for completing a challenge that requires the player to pick up 15 in one match. They aren't too difficult to find.
How to find candy in Fortnite
To find candies in Fortnite, players will need to seek out trick-or-treat buckets around the map. They can be found next to homes in Pleasant Park, and there's a bunch. When a player comes across the bucket, they'll need to hit it until candies fly out. Simply pick 15 of them up to complete the challenge.
There are six types of candies players can acquire in this Halloween event:
Candy Corn - Gives the player 1 health per second, for 10 health up until 100.
Peppermint - Gives the player 5 health and also a temporary boost in speed.
Jelly Bean - Gives the player 10 health/shield.
Thermal Taffy - Gives the player temporary Thermal Vision and 5 health.
Hop Drop - Gives the player a temporary low gravity effect and 5 health.
Zero Point Pretzel - Grants Zero Point Crystals effect and a random amount of health.
Not only are these candies necessary for completing the challenge, but they're great items to carry during a match. Zero Point Pretzels are especially useful for when a battle just gets a bit too chaotic. 
Candies are now available to obtain in Fortnite.